Student art to be on display at Cuero museum
The Crossroads community will have the opportunity to view artistic pieces by local college students at an exhibit at the Chisholm Trail Heritage Museum in Cuero, beginning Oct. 25 until Nov. 2.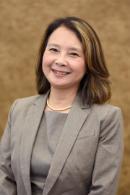 Kyoko Amano
Art students from the University of Houston-Victoria and Victoria College will have an art display on the second floor of the Chisholm Trail Heritage Museum, 302 N. Esplanade St., in Cuero. The exhibit will showcase art by the students in various mediums, including acrylic paintings, hand-drawn pieces, digital paintings and ceramics. The exhibit is free and open to the public.
"This is an exciting opportunity to collaborate with Victoria College and showcase our students' talent to the community," said Kyoko Amano, dean of the UHV College of Liberal Arts & Social Sciences. "Art is another way we can speak to each other and inspire, and through this exhibit, our students will be able to showcase their creativity and connect with the community."
This is the first time the university has partnered with the Chisholm Trail Heritage Museum and the first time UHV students will have their art on display inside a museum. Both the university and the museum would like to continue this partnership and have an annual student exhibition at the museum.
"We are very excited to have students from UHV and VC showcase their work at the museum," said Tresa Urbanovsky, an education coordinator with the Chisholm Trail Heritage Museum. "In the past, we have hosted exhibits from the Cuero Independent School District, and it is always amazing to see what students produce. I am looking forward to seeing the art from UHV and VC. I am sure it is going to be wonderful."
There will be various art pieces from the students of more than three studio and design classes, and many of the UHV students are enrolled in the Communication Design program, said Claudia Quintero, UHV visiting assistant professor of art. For the inaugural exhibit, Quintero wanted to give students an opportunity to showcase their creative output, whether the art is a project they have worked on in class or art that they did outside of class. Students can choose to have up to several different art pieces in the exhibit.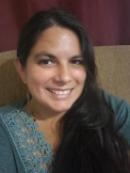 Claudia Quintero
"I wanted them to have a place where they can actually show the world what they are expressing creatively," Quintero said. "When I was an art student, my professors helped me to exhibit and would encourage it. I wanted to show my students that it's not just academic schoolwork that is important – your creative output is important as well, and the world needs to see it."
For UHV communication design junior Alexandria Grant, art has always been a hobby and a way to relax and center herself. The Houston native is planning to submit several art pieces in the exhibit, including an acrylic master study of artist Joseph Mallord William Turner's "Rain, Steam, and Speed;," a hand-drawn black and white piece of a photo from a trip to Arizona; a monochromatic acrylic painting of a skull and rose; and a colored pencil drawing interpretation of song lyrics from the band Queen.
Grant, who took her first art class at UHV this semester, is excited to share the two acrylic paintings that she worked on in class. For her master study, she decided to interpret Turner because she liked the way he built and blended different colors that can seem either blurry or, in some instances, sharp. Her monochromatic art, which is when an artist uses many shades of one color, will feature shades of red. To have her and other students' art on display in a museum inspires her, she said.

Alexandria Grant
"I am very excited because I have never had my work in a museum before, and I have heard that it is a whole different experience to see your own art on display," Grant said. "Art can move people and is there to evoke an emotion and make you feel something or inspire you to do something. I invite people to go out and see mine and my classmate's artwork because some of their artwork is quite amazing."
The UHV and VC student art exhibit will be on display from Oct. 25 to Nov. 2. A UHV shuttle will take students to the museum on the evening of Oct. 25 for the opening night reception. Students who would like to attend the opening night reception should meet at the bus stop at UHV University Center by 4:20 p.m. on Tuesday.
The Chisholm Trail Heritage Museum is open Tuesday through Saturday from 10 a.m. to 4:30 p.m., and admission into the museum is $5 for adults and $3 for children. Admission to see the student exhibit on the second floor of the museum is free. UHV encourages attendees to donate to the museum when visiting the exhibit.
The University of Houston-Victoria, located in the heart of the Coastal Bend region since 1973 in Victoria, Texas, offers courses leading to more than 80 academic programs in the schools of Arts & Sciences; Business Administration; and Education, Health Professions & Human Development. UHV provides face-to-face classes at its Victoria campus, as well as an instructional site in Katy, Texas, and online classes that students can take from anywhere. UHV supports the American Association of State Colleges and Universities Opportunities for All initiative to increase awareness about state colleges and universities and the important role they have in providing a high-quality and accessible education to an increasingly diverse student population, as well as contributing to regional and state economic development.