More than 440 donate to UHV for Giving Tuesday event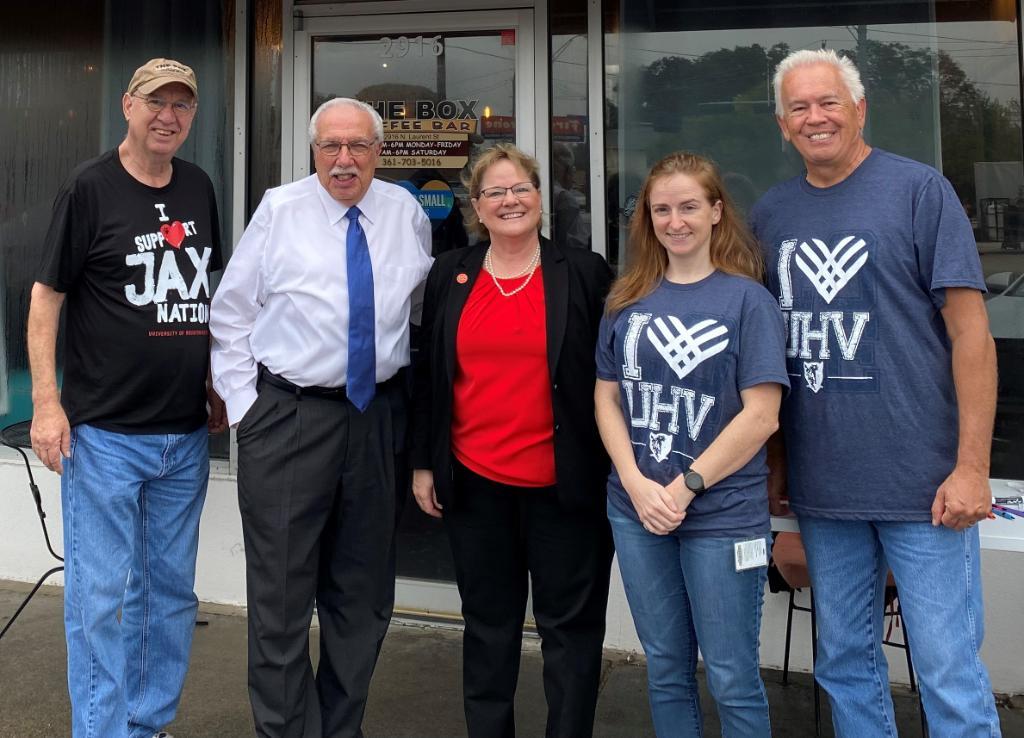 From left, UHV Center for Regional Collaboration director Donald Jirkovsky; Gary Moses; Beverly Shuford, UHV vice president for administration and finance; and UHV Center for Regional Collaboration community development specialists Heidi Shook and Bob Hoover pose outside The Box Coffee Bar on Laurent Street on Nov. 29 at a giving station for Giving Tuesday. UHV received $48,225.32 in donations from 446 donors on Giving Tuesday.
The University of Houston-Victoria was a recipient of a $10,000 donation from two Victoria businesses after the university exceeded its goal of 300 donors during its seventh annual Giving Tuesday campaign on Nov. 29.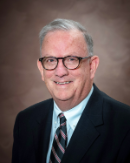 Bob Glenn
This year, the university received a total of $48,225.32 in donations from 446 donors, including UHV faculty, staff, students, alumni and community members. The total raised includes a $10,000 challenge donation from KMH Wealth Management LLC and Keller & Associates CPAs PLLC, which was offered as an incentive to reach a goal of 300 donors during the 24-hour giving period.
"It is amazing to see support for the university during this year's Giving Tuesday campaign, and we are grateful for all those who donated to the university during the season of giving," UHV President Bob Glenn said. "We appreciate that so many continue to support our students and our mission of higher education."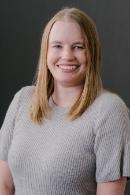 Kelsey Norgard
Donations were collected online and at different locations on campus, UHV Katy and in the community, including The Box Coffee Bar at Airline Road and Laurent Street and Crossroads Bank. The first donation was given at 6:47 a.m. and the last donation came in at 11:40 p.m., with donations from all over the country and Japan. Donations ranged from six cents to $25,000, with the largest donation coming from the Wood Family Trust.
"We are very appreciative of the wonderful support UHV received on Giving Tuesday," said Kelsey Norgard, UHV director of alumni relations and annual giving. "We are grateful to have the community show up for the university and our students."
This year, 53 different university areas received donations during Giving Tuesday, and the top nine areas will receive an extra $1,000 from the matching funds from KMH Wealth Management LLC and Keller & Associates CPAs PLLC. The areas that received the most donations include the JP's Market student food pantry, the Athletics Scholarship fund and the Student Services Unit Excellence fund. Other top areas include the UHV College of Education & Health Professions Scholarship Fund, the "Got Your Six" Veterans Scholarship Fund, and the university's general scholarship fund.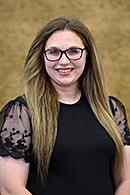 Molly Duke
JP's Market, the area that received the highest number of donors, is a free and anonymous resource that helps with eliminating food insecurity on campus. The name of the food pantry is short for "Jaguars' and Pirates' Market" and serves students enrolled at UHV and Victoria College.

During the fall semester, about 7,000 pounds of food and items were distributed to students, with an average of 150 students visiting a week. During Giving Tuesday, many students donated what they could to the market, said Molly Duke, a UHV Student Life Coordinator who oversees the food pantry. Students donated change from their pockets and purses and promoted the event on social media so that more people could donate.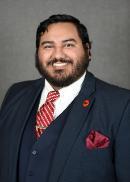 Dominic Flores
"I was so happy to see so many people donate to JP's Market, including many students," Duke said. "I am beyond thankful to everyone who donated. Every dollar the market receives helps our students."
One of the students who donated to JP's Market is Dominic Flores of San Antonio. Flores, who recently graduated with a Bachelor of Science in political science, would go by the pantry every couple of weeks for items he needed. In addition to basic needs, he also appreciates that the pantry has a Career Closet, where students can borrow suits for interviews and other special events.
"It's great to see the market get so much support because they help out students so much as we are all on a college student budget," Flores said. "The market benefits so many students, and I know the support will go a long way."
The University of Houston-Victoria, located in the heart of the Coastal Bend region since 1973 in Victoria, Texas, offers courses leading to more than 50 academic programs in the schools of Arts & Sciences; Business Administration; and Education, Health Professions & Human Development. UHV provides face-to-face classes at its Victoria campus, as well as an instructional site in Katy, Texas, and online classes that students can take from anywhere. UHV supports the American Association of State Colleges and Universities Opportunities for All initiative to increase awareness about state colleges and universities and the important role they have in providing a high-quality and accessible education to an increasingly diverse student population, as well as contributing to regional and state economic development.