International students feel at home at UHV with siblings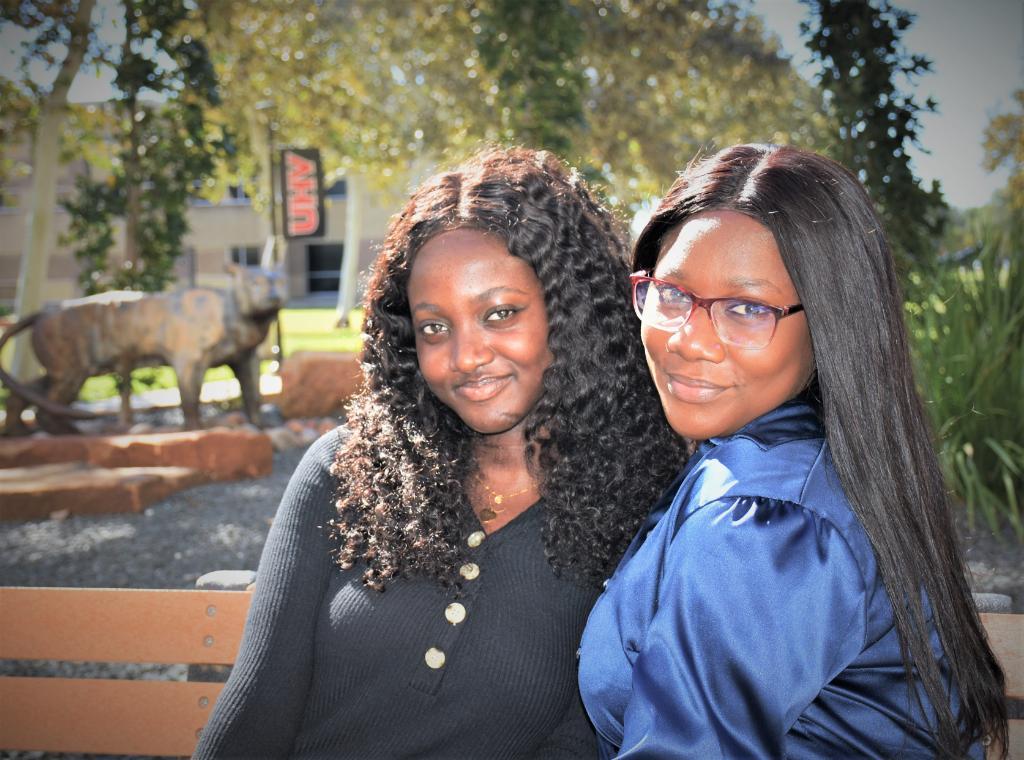 Sisters Josephine Adu-Gyamfi, left, and Eunice Adu-Gyamfi, both of Ghana, at the University of Houston-Victoria. This fall, UHV International Programs has enrolled seven sets of international student siblings at the university.
For Eunice Adu-Gyamfi, feeling at home is more than being at a certain location or place. The University of Houston-Victoria graduate student from Ghana has felt more at home at the university and in Victoria now that her sister, Josephine Adu-Gyamfi, has started her undergraduate journey at UHV this fall.
"Family is everything to me," Eunice said. "Having my sister here, it means there is support here. It means I can go back to our apartment and speak the way we speak at home. It is almost like we are home. It is a good feeling."

Ludmi Herath
This fall, UHV International Programs has enrolled seven sets of international student siblings at the university.
"UHV is honored to have family members attend UHV. This is a testament that we are taking care of our international students, that the parents are comfortable sending their children to our campus and investing their child's education at UHV," said Ludmi Herath, director of UHV International Programs. "Fall 2022 is the first time UHV has enrolled siblings, and when we realized we have seven sets of siblings attending UHV, that deserves recognition of our entire UHV community as well as Victoria. Our students are spreading the word because of the care and service our staff, faculty and community are providing to our students, and kudos to all the departments at UHV who made this a possibility."
Eunice is pursuing a Strategic Master of Business Administration at UHV and started her time at the university last spring. As a student looking to further her career in human resources management, UHV was the perfect choice for her because of the effective graduate business program and its supportive and responsive faculty. The International Programs staff also helped make her transition to UHV smooth. Because her classes were online, Eunice would try her best and often try to call her family in Ghana to get that connection she was missing.
But her younger sister, Josephine, was more than ready this fall to attend school at UHV. Josephine is a computer information systems major who would love to one day contribute to the tech world, perhaps by creating new software or by working in cybersecurity.
"It was a little overwhelming at first to come over here, but also exciting, because I wanted this experience," Josephine said. "I was ready for school, to experience new cultures, places and food. And it is nice to have my sister already here to help me adjust."
Both sisters live together with a friend, another international student from Ghana, and feel at home now that they are going to school together. Along with having each other, UHV faculty and staff have also made the experience enjoyable, including Emmanual Quansah, UHV assistant professor of management, who helped Eunice navigate the Blackboard system when she first started at UHV, and English lecturer Jake Snyder, who encourages Josephine when she is doubting herself. Many of the faculty members also help make learning fun but impactful, the sisters said. The International Programs staff and other international students also have been extremely helpful.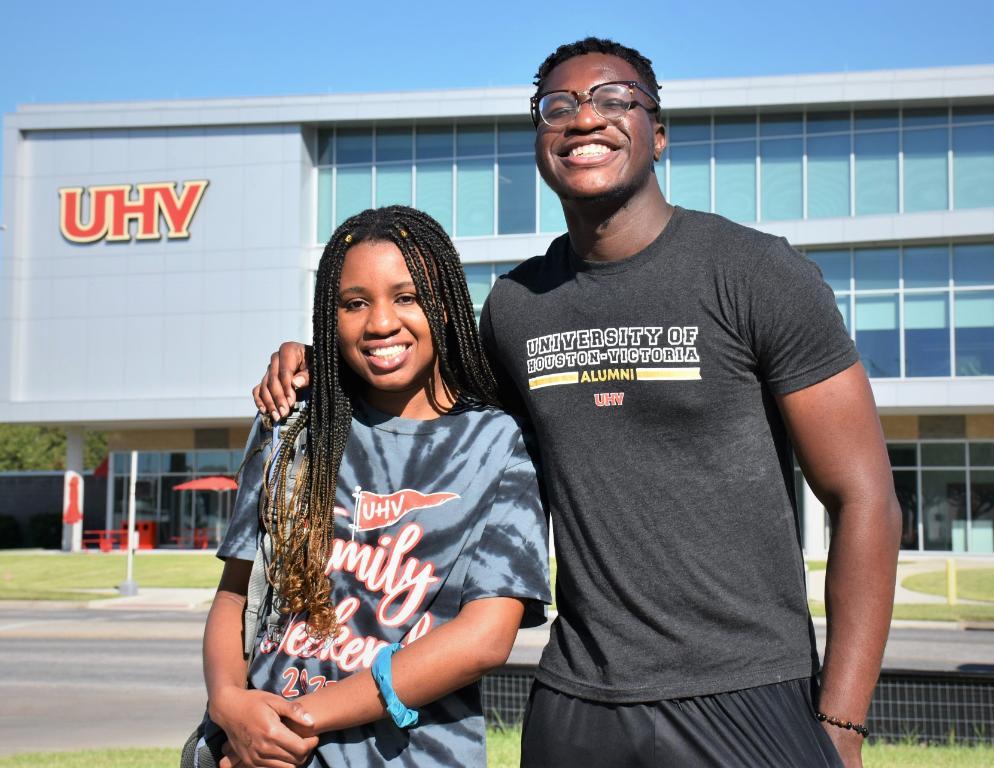 Glory Joe-Ibekwe and Samuel Joe-Ibekwe
Graduate students Samuel Joe-Ibekwe and his sister Glory Joe-Ibekwe of Nigeria also feel like UHV is another home for them. Samuel, who is in the Master of Science in biomedical sciences program, received his bachelor's degree in biology at UHV in 2021 and was the first of the two to attend UHV. He found that UHV had so much to offer, with the low teacher-to-student ratio meaning more one-on-one interaction with faculty. Samuel plans to continue his higher education after he receives his master's degree, and he liked that at UHV, he can work closely with faculty who all want the best for students, including Humberto Hernandez, Gen Kaneko and Hashimul Ehsan. Yvonne Garcia, with International Programs, also made his transition to UHV easier, he said. Samuel also joined several student organizations on campus, including the Student Government Association, the African Student Association, and served as vice president of the International Student Organization.
So, when Glory was looking into graduate programs, she knew UHV would be a great choice based on the many opportunities the university presents to students with more one-on-one learning, compared to bigger universities where there are hundreds of students in a class and hardly ever have those opportunities with their professors.
"It was pretty easy to acclimate to UHV, the faculty and staff and the student activities made it easy and fun," Samuel said. "To have Glory here meant that I had more family support at UHV, which is very helpful. Before she got here, the International Programs staff was the closest thing I had to family, because they treat you like family."
Glory, like her brother, also joined student organizations at UHV, including SGA and the African Caribbean Student Organization. Glory will graduate this year with her Master of Science in computer information systems, and she would like to work in the tech industry in software development. She enjoys attending student activities on campus and exploring the area. She and her brother like to travel to Houston and once took a trip to see NASA. She has found the UHV community to be very friendly and helpful, and people like Herath and Garcia will often go the extra mile for international students.
"I have enjoyed my time here at UHV with my brother," Glory said. "It has been such a great experience."
Herath, who spent several weeks this fall traveling in Ghana and Nigeria to share the opportunities UHV has to offer students, was able to meet the parents of some of UHV's international students. Samuel and Glory's mother visited Herath twice in Lagos, Nigeria, a highlight of Herath's travels as she has been in touch with their mother since Samuel was an undergraduate student.
"These are the connections UHV has created over the years for parents and guardians to trust UHV with their students when parents and family members are thousands of miles away," Herath said. "We are truly their home away from home."
The University of Houston-Victoria, located in the heart of the Coastal Bend region since 1973 in Victoria, Texas, offers courses leading to more than 80 academic programs in the schools of Arts & Sciences; Business Administration; and Education, Health Professions & Human Development. UHV provides face-to-face classes at its Victoria campus, as well as an instructional site in Katy, Texas, and online classes that students can take from anywhere. UHV supports the American Association of State Colleges and Universities Opportunities for All initiative to increase awareness about state colleges and universities and the important role they have in providing a high-quality and accessible education to an increasingly diverse student population, as well as contributing to regional and state economic development.