First Generation
First-generation college students are defined as "any student whose parents, or guardians, did not complete a four-year college or university degree". Many first-generation college students experience unique strengths and challenges in the pursuit of a college education. Many of them may have to learn to adjust to the academic culture while maintaining the culture and traditions of their family of origin. The UHV Student Life office is committed to supporting and nurturing students' intellectual, social, personal, and professional development by coordinating interactive programs and activities specific to the needs of first-generation students.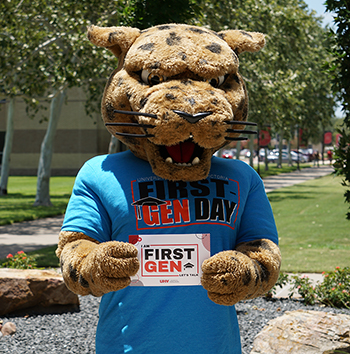 First-Gen Mentors
UHV has numerous students, staff, and faculty members that have committed to supporting first-generation students. They have agreed to uphold the following statements:
I agree to be positive, supportive, and affirming to students, staff and faculty who wish to talk about being first-generation.
I am committed to providing wisdom and knowledge based on my experience of being a first-generation college graduate.
I recognize that first-gen students often hold other historically marginalized and underrepresented identities, which can compound the difficulty of navigating the world of higher education.
I strive to form close relationships with students to help them envision how they will survive and thrive after graduation.
I will be encouraging and honest about my first-gen challenges and triumphs.
Mentors represent themselves by placing the following placard on their office door: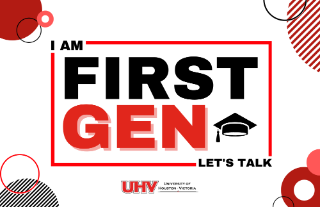 If this placard is on the outside of the door, it is a space for you to find guidance and support.
For more information on how to become a First-Gen Mentor, contact Freddie Cantu.
First-Gen Graduation Cords
The Student Life office would like to celebrate the accomplishments of UHV first-gen students by providing free graduation cords to all upcoming graduates who identify as first-generation. First-gen graduation cords are a beautiful turquoise color, that will stand out as you walk the commencement stage.
Registration for graduation cords
If you are a first-gen student who will be graduating this semester, and would like to have a free cord, please fill out the
First-Gen Graduation Cord Registration form
. The deadline to register for all spring graduates is Friday, May 5 at midnight. Once you register, your cord will be available for pick up at graduation. Please feel free to reach out to
Freddie Cantu
in Student Life if you have any questions!
First-Gen Resources
A list of resources, both on- and off-campus:
General
Financial
Parents
Videos for Inspiration