Daily Deals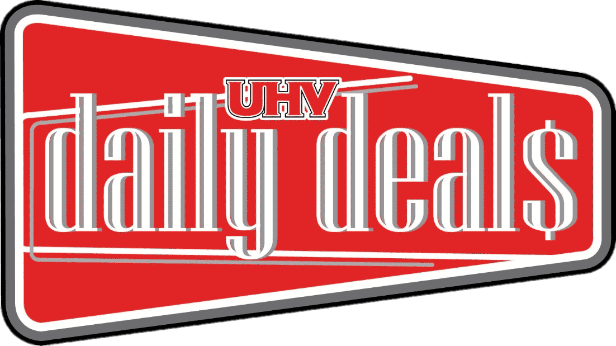 The Daily Deals student discount program is for UHV students only. The various participating local businesses will provide the following deals to those who present a valid student I.D. at the time of purchase. Contact Freddie Cantu at (361) 485-4474 for more information.
Food Deals
Dickey's Barbecue Pit
9006 N. Navarro St.
Buy Any Meat Plate & Get a Free Big Yellow Cup or Dessert of Your Choice
Double J Eatery*
8607 N. Navarro St.
Free Drink with Purchase of Dinner
Hilton Garden Inn Victoria*
123 Huvar St.
10% Off Food Only, No Alcohol
Jaguar Hall Dining*
2705 Houston Hwy.
$6 Buffet Every Thursday
Jason's Deli*
5301 N.Navarro St., Suite C
10% Off
Kahve "Coffee & Eats"*
7800 N. Navarro St. (Victoria Mall)
10% Off
KB's BBQ*
134 Villafranca Rd.
Free Drink with Any Meal or Sandwich
Kona Ice*
The Kona Truck
King Kona for $3, Limited One Per Person
Mumphord's Place*
1202 E. Juan Linn St.
Buy One Plate, Get 50% Off Second Plate
Raven's Family Dining*
1002 N. Navarro St.
Medium Single Topping Pizza Only $6 Plus Tax
Rosebud Records & Grill
102 S. Main St.
10% Off
Ventura's Tamales*
3907 N. Navarro St.
$1.29 Shredded Chicken/Ground Beef Tacos Any Day
Wendy's*
Victoria Locations
Free Small Frosty with Any Purchase; Free Upsize with Any Premium Combo Purchase After 10 p.m.; Two #1 Combos for $9.99 All Day
Yummy Finds*
402 Salem Rd
Buy 1 Yummy Sized Cupcake, Get 1 Free or Purchase 1 Lunch Entree with Side & Receive 1 Free Yummy Sized Cupcake (Limit one offer per customer/per day)
Entertainment
Century Lanes*
3401 John Stockbauer Dr.
VIP Rates with Free Shoes
De-Crypt It Escape Room*
1909 E. Red River St.
10% Off With Student ID
Nave Museum
306 W. Commercial St.
$30 Reduced Membership for UHV Students
Outlaw Pass Family Fun Center*
78 Tate Road
Buy 1 Round of Golf, Get 1 Round Free (Tuesdays-Fridays only)
Raven's at the Woodlawn*
1326 E. Red River St.
Bowl Two Games at Regular Price, Get Your Third Game Free
Riverside Golf Course
302 McCright Dr.
No Cart Fee
Skateworld*
108 Monterrey Dr.
$1 Off Admission (Not valid for special sessions)
The Texas Zoo*
110 Memorial Dr.
$5 Admission
Victoria Film Society*
214 N. Main St.
$2 Off Movie Screenings (Limit 4 tickets per screening)
Victoria Symphony
405 E. Loma Vista Ave., 1002 Sam Houston Dr. (Concert Location)
2 Student Concert Tickets for $5 Each
Community Discounts
All PRO Paint and Body*
3011 Houston Hwy.
15% Off a $500 Deductible
Bonita Brow Bar*
7800 N. Navarro St. (Victoria Mall)
$2 Tuesdays - $2 Off
ProCare*
4501 N. Navarro St.
$50 Off or Free Detail
VCS AT&T Retailer*
105 Twin Fountain Dr.
20% Off Certain Accessories
Victoria Eye Center
107 James Coleman Dr.
20% Off Regular Priced Fame and Lenses
LASIK Discount - Inquire for Details
*Businesses who also offer the discount to UHV faculty and staff members.