Daily Deals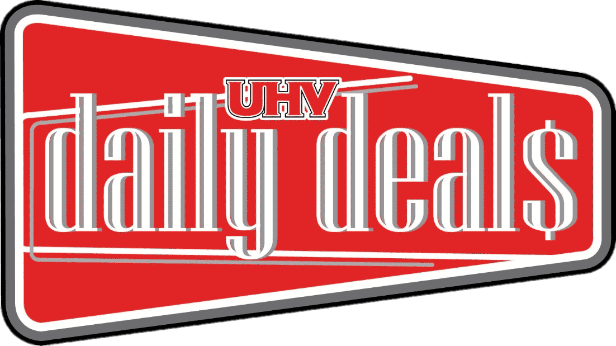 The Daily Deals student discount program is for UHV students only. The various participating local businesses will provide the following deals to those who present a valid student I.D. at the time of purchase. Contact Freddie Cantu at (361) 485-4474 for more information.
Food Deals
Bush's Chicken*
4209 N. Navarro St.
Four Tender Meal - $4.99 plus tax
Double Dave's Pizzaworks*
7104 N. Navarro St.
Students - 10% Off Everyday and Faculty/Staff - 20% Off on Tuesday's
Double J Eatery*
8607 N. Navarro St.
Free Drink with Purchase of Dinner
Jaguar Hall Dining*
2705 Houston Hwy.
$5 Buffet Every Thursday
Jason's Deli
5301 N.Navarro St., Suite C
10% Off
Kahve "Coffee & Eats"*
7800 N. Navarro St. (Victoria Mall)
10% Off
KB's BBQ*
134 Villafranca Rd.
Free Drink with Any Meal or Sandwich
Kona Ice of Victoria*
The Kona Truck
King Kona for $3
Mumphord's Place*
1202 E. Juan Linn St.
Individuals - $1 Off Purchase; Groups - Buy One Plate, Get 50% Off Second Plate
Raven's at the Woodlawn*
1326 E. Red River St.
Bowlers Get 20% Off on Large or Extra-Large Pizzas
Raven's Family Dining
1002 N. Navarro St.
Free Drink with $5 Purchase
Rosebud Records & Grill
102 S. Main St.
10% Off
Wendy's*
Victoria Locations
Free Small Frosty with Any Purchase; Free Upsize with Any Premium Combo Purchase; Two #1 Combos for $9.99 from 2-5 p.m.
Wingstop*
5208 N. Navarro St.
10% Off
Entertainment
Century Lanes*
3401 John Stockbauer Dr.
VIP Rates for Students, Staff and Faculty
Cinemark 12*
7806 N. Navarro St.
$5 Tickets Every Tuesday
(Excludes 3-D Movies)
Gerry's Kayaks
224 Memorial Dr.
50% Off on Groups of 5 or More
Laser World
310 E. Larkspur St.
Buy One, Get One Free Laser Tag (Limit one free game per purchase);
$4 Laser Tag Every Thursday
Museum of the Coastal Bend*
2200 E. Red River St.
10% Off in Museum Store
Nave Museum
306 W. Commercial St.
$30 Reduced Membership for UHV Students
Outlaw Pass Family Fun Center*
78 Tate Road
Buy 1 Round of Golf, Get 1 Round Free
Riverside Golf Course
302 McCright Dr.
No Cart Fee
Skateworld
108 Monterrey Dr.
Buy One, Get One Free (Fri. through Sun. Only. Not valid for special sessions or group party rates)
The Texas Zoo*
110 Memorial Dr.
$2 Off Regular Price Admission
Victoria Film Society*
214 N. Main St.
$2 Off Movie Screenings
Victoria Symphony
405 E. Loma Vista Ave., 1002 Sam Houston Dr. (Concert Location)
$5 on Symphony Concert Tickets
Community Discounts
All American Awards & Trophies*
4502 Lilac Lane, Suite B
$5 Off $50 Purchase
Bonita Brow Bar*
7800 N. Navarro St. (Victoria Mall)
$2 Off on Tuesday's (Cannot be combined with other offer)
Great Clips*
8902 N. Navarro St., Suite 100
$2 Off Any Haircut
Optical Boutique
107 James Coleman Dr.
20% Off Regularly Priced Frames and Lenses
VCS AT&T Retailer*
105 Twin Fountain Dr.
20% Off Certain Accessories
Victoria Eye Center
107 James Coleman Dr.
LASIK Discount - Inquire for Details
*Businesses who offer the discount to UHV faculty and staff members.