Progress Report 2022 - 2023
Make progress on UHV Progress Card measures.
Made progress in all Progress Card measures, including being a nationally competitive university; student enrollment and retention; community advancement; access and outreach; athletics competitiveness; and resources.
Develop and implement a successful plan for celebrating UHV's 50 years of service.
UHV's 50th Anniversary Steering Committee was appointed by the president and will run from January 2022-May 2024.
The committee's charge and purpose is to provide high-level leadership and coordination for the many events, activities and programs that UHV will conduct to celebrate our 50th anniversary in 2023. In general, the 2023/2024 academic year will be the "year of celebration."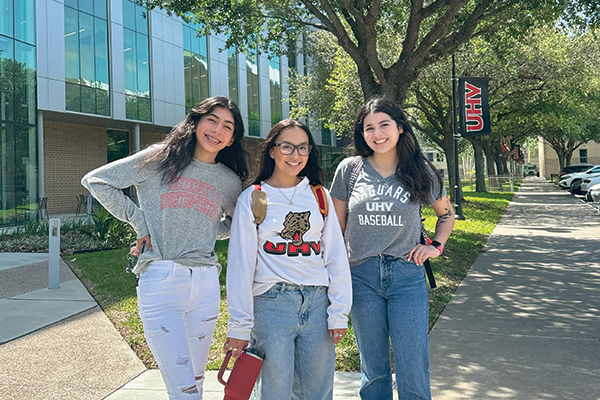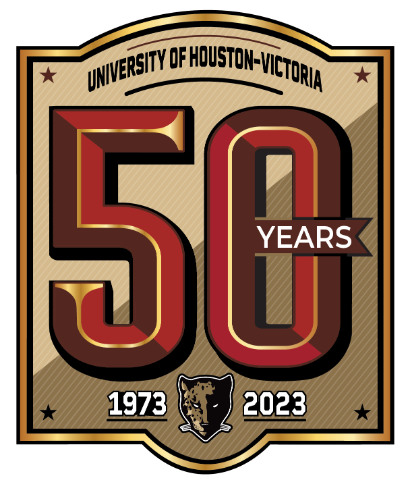 Goals and Outcomes
In Spring 2023, the UHV Marketing and Communications team created and unveiled a 50th anniversary logo to be used in a variety of ways across publications, collaterals, communications, events, and more throughout the celebration year.
Infuse the 50th anniversary into all activities and events planned for the fall 2023 to spring 2024 academic year. The 50th Anniversary Steering Committee is encouraging all activities and events from Convocation to Commencement to Homecoming to Welcome Week to acknowledge and promote the 50th anniversary milestone in their marketing, program, and themes as much as possible.
The 50 Faces of UHV exhibit, to be unveiled and celebrated in September 2023, was established to recognize and celebrate 50 people, entities, or organizations that have helped to propel, grow, and establish a lasting legacy for UHV over the past 50 years. These honorees will be on display at various places across the Victoria campus. The list was developed by an internal group and ultimately approved by the Executive Committee.
Established a 50th Anniversary Scholarship campaign to raise $50,000 and subsequently award 50 $1,000 scholarships to students throughout the anniversary academic year. The 50th Anniversary Scholarship will be a priority for the Advancement team as they work with donors as well as a highlighted funding priority for the 2023 Giving Tuesday and One for All, All for One employee giving campaigns.
The UHV Marketing and Communications team is creating the first UHV Magazine.
This publication will provide an opportunity to highlight students, faculty, staff, alumni, and donors, and it can be shared with prospective students to the most loyal Jaguar. The first issue is being finalized now and will highlight the 50th anniversary and history of UHV. This piece will be available in both hard copy and electronic form for distribution.
On Sept. 26, 2023, UHV and UH Public Art will celebrate the William and Linda Reaves public art exhibit opening at UHV.
Bill and Linda Reaves have donated over 40 pieces of art that are on display in buildings across the
UHV campus. They have also contributed funding to commission three works that will be installed in the Northwest building. The collection is focused on Texas artists and will be accompanied eventually by a speaker series and publication that will further highlight and showcase the artwork on campus. This collection is a unique opportunity to attract both campus and community visitors and make available important artwork in Victoria. This event will serve as a special highlight of the overall 50th anniversary activities.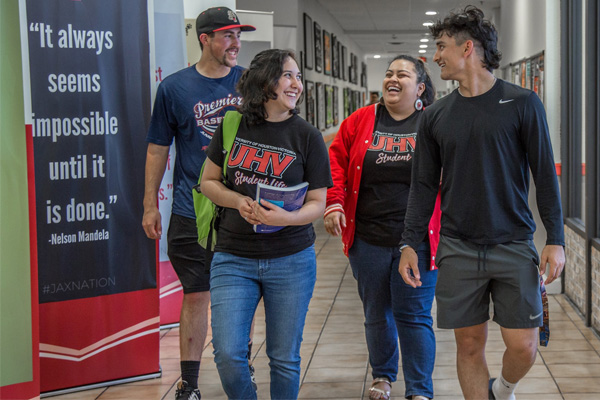 The UHV Marketing and Communications team is working on 50th anniversary window decals for the University Commons building.
The location on a building that is well trafficked by campus and community members and visible from the road will provide a special opportunity to promote the milestone celebration during the anniversary academic year.
Fall 2023 and Spring 2024 graduates will have the opportunity to showcase special Commencement stoles with the 50th anniversary logo.
Josh Vega and the Free Art Project in Victoria will be creating two murals on campus.
These artworks are intended to begin in fall 2023 and will add color and life to campus and to those passing by who will see and enjoy the art. They also will contribute to the overall 50th anniversary portfolio. The two locations identified for the murals are on the side of the South building chiller yard wall that faces Red River Street and on the Center building next to the picnic area.
9-16 Transfer pathways
We have developed seamless pathways with HCC Katy and the Katy Independent School District for students who wish to remain in the Katy area. The teaching pathway allows Katy ISD to create a "build your own" program by helping students enroll in dual-credit classes in high school, beginning in the 9th grade, that will directly apply to the requirements for the Bachelor of Science degree in education at UHV. We are creating a similar pathway for students interested in business administration, computer science and cyber security. The pathways are only awaiting school board approval of dual credit courses through HCC.
Promotion
We have co-sponsored several marketing opportunities to promote the Start in Katy, Finish in Katy partnership. The focus of the promotional material is to communicate to students, parents and transfer students the opportunity to complete all their lower-division credit requirements at HCC and transfer to UHV Katy to complete the last two years (upper-division credits) while saving time and money. We have co-sponsored billboards in the Katy area, full-page ads on the Community Impact Higher Education edition newspaper, Katy Times magazine ads, school district and chamber events, and social media campaigns, as well as developed the katy.uhv.edu webpage to provide additional information.
Building on the work accomplished in 2020 and 2021, establish a new five-year plan to commence in 2023.
Goal 1: Assess existing programs.
Objective 1.1. Annually assess and report the effectiveness of existing programs.
Objective 1.2. Annually assess regional needs for marketable and sustainable new programs.
Goal 2: Promote and expand access to education.
Objective 2.1. Annually increase undergraduate and graduate headcounts each by 5 percent and increase full-time equivalent (FTE) students by 4 percent overall.
Objective 2.2. Annually increase undergraduate and graduate retention and persistence each by 3 percent.
Objective 2.3. Annually assess regional needs for marketable non-degree programs.
Goal 3: Increase our community engagements.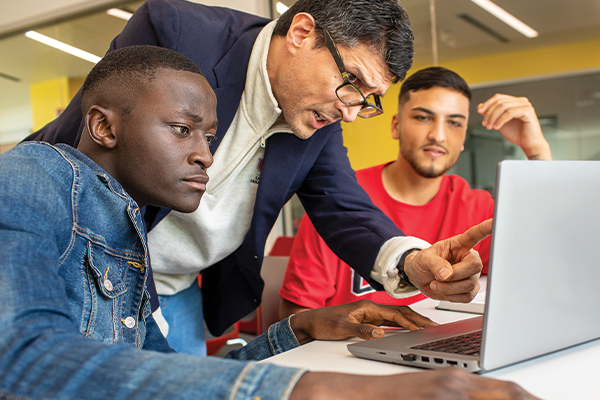 Goal 4: Promote a culture of institutional identification among stakeholders.
Objective 4.1. Annually increase attendance of stakeholders at in-person campus events.
Objective 4.2. Hold attrition of faculty and staff to no more than 10 percent per year.
Goal 5: Enhance leadership pathways and skillsets for all stakeholders.
Objective 5.1. Receive the Carnegie Leadership for Public Purpose Elective Classification by 2028.
Objective 5.2. Annually increase leadership events that meet Carnegie classification requirements.
Objective 5.3. Receive the Seal of Excelencia for Hispanic-Serving Institutions by 2028.
Objective 5.4. Support faculty so that 80 percent of all faculty annually demonstrate overall performance ratings at or above expectations.
Objective 5.5. Support staff so that 80 percent of all staff annually demonstrate overall performance ratings at or above expectations.
Continue to build engagement, cultivation, solicitation and stewardship efforts with alumni, and current, past and prospective donors.
The UHV Office of University Advancement team's mission is to secure growing material support for the university and to engage an increasing number of alumni, foundations, corporations and other donors in that effort. To this end, OUA creates awareness, builds relationships and generates support for the teaching, research and academic mission of UHV.
The start of FY2023 saw team transition in OUA. A new Vice President of Advancement and External Relations, Amber Countis, started in October 2022 after a seven-month interim period. Additionally, there was a transition in the Coordinator of Advancement Services and Stewardship role. We are currently working to fill the role of Senior Director of Development this summer. Finalizing the key players of the team in concert with the completion of the university's new strategic plan and FY24 business planning will position us well as we move into the 50th anniversary academic year. As UH System rolled out a new donor database in the fall, our office has participated in opportunities onsite or in Victoria to learn and train on the new system and processes.
One of our best opportunities to engage our campus and community is through Giving Tuesday each November. This year we focused on a participation goal of 300 and were able to exceed that with a total of 446 donors participating in raising $48,225.32 on Nov. 29, 2022. We are grateful for the generosity of KMH Wealth Management LLC and Keller & Associates CPAs PLLC who again offered a $10,000 challenge gift to double the impact of donors' gifts and encourage others to participate. Fifty-three different university designations received funding and the top nine received an extra $1,000 for their efforts.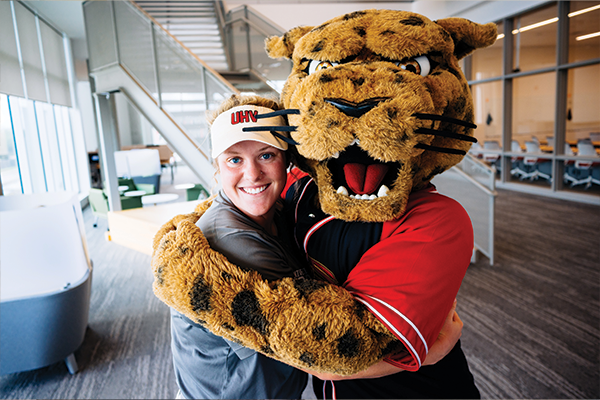 In March-April 2023, UHV Homecoming provided the perfect backdrop to celebrate the "Rise of the Jaguars" theme. The weeklong celebration hosted many activities for students and alumni to celebrate, engage and reconnect. From pre-game celebrations to softball, baseball, the alumni soccer game, the Retired Faculty & Staff Luncheon, alumni career panel, and the Alumni Banquet which recognized our Young Alumnus of the year, David Faskas, class of 2012, and Distinguished Alumna, Lori Zamora, class of 2020, we are able to engage and build traditions and legacies that will only grow and prosper over time. The 50th Anniversary Scholarship campaign was also launched at the Alumni Banquet.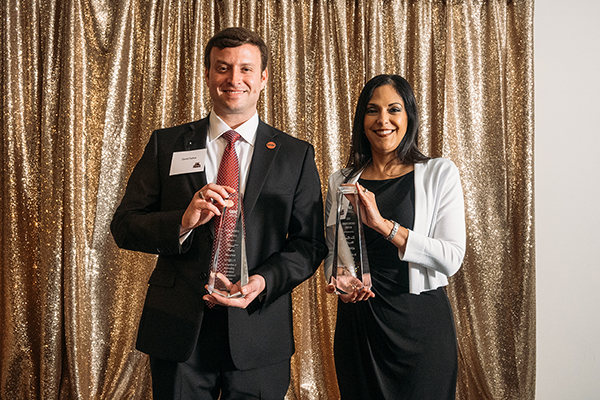 In September 2022, we celebrated our faculty and staff giving with our One For All, All For One luncheon. Most gifts are matched 1:1 by the university, making a UHV employee's gift have twice the impact. During FY2022, the One For All, All for One Program had 204 employee donors and raised $62,321.22. Forty-two percent of UHV employees gave back. Additionally, we celebrate the President's Circle donors who give 1 percent or more of their gross salary during the fiscal year. For FY22, there were 30 President's Circle members.
In March 2023, Advancement partnered with Student Affairs to organize the UHV Day at the Capitol, when a group of student leaders and administrators traveled to Austin to visit Texas legislators to talk about the benefits of UHV and see the Senate resolution recognizing UHV's 50 years of service. We also engaged with the Victoria Chamber of Commerce's Legislative Day and met the UH System student regent and representatives from UH-Clear Lake.
In late April 2023, we celebrated the official dedication of Kay's Grove on campus. This outdoor space was a labor of love from donors, family and friends of the Walker family. Over 150 people including donors, former presidents and regents, PRAB members, faculty, staff and students were able to join as we celebrated Kay Kerr Walker and opened this beautiful space on campus that has already been host to photo shoots, studying and breaks, and we believe it will be a very popular space for events and gatherings moving forward. We are anticipating the installation of some UH Public Art pieces by fall 2023.
We assisted with the promotion, engagement and socializing of the proposed new aviation program through contributing to prospect lists, scheduling and participating in conversations with alumni, donors, city, county and state government representatives to garner support and buy-in for the UHV aviation proposal.
We worked with alumni donors Diana and Ben Galvan to increase their generous philanthropic commitment by$75,000 for a Jaguar statue on campus that will be located in front of University Commons and eventually become another meaningful tradition for our students and alumni to visit as well as complement the Ben Wilson construction project.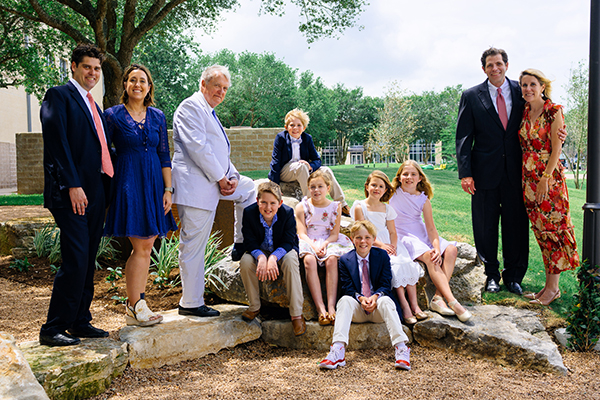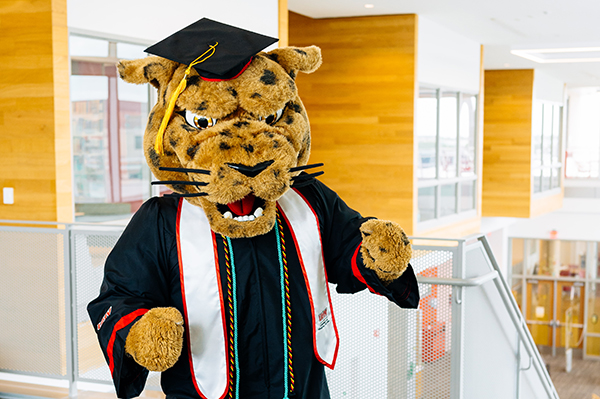 We offer our graduates the opportunity to make their first gift to UHV and wear a Jaguar Spirit Cord during commencement to demonstrate their pride and affinity for UHV and to help support our alumni and engagement goals. This fiscal year, we have sold 241 Jag Spirit Cords compared to the 240 sold in FY2022. Thank you letters are sent from the director of alumni relations and annual giving. This year we were able to make the Jag Cords available at different events including the Graduation Celebration, commencement and International Festival as well as available online for purchase and pick up. Students who purchase Jag Cords are also recognized and asked to stand during the commencement ceremonies.
Throughout the year, we have engaged with the community and donors and alumni through UHV's sponsorship of and participation in a variety of community events including The Victoria Bach Festival spring gala, Theatre Victoria's Mystery in the Garden, Victoria Crime Stoppers, The Texas Zoo's Wild About Wine, Victoria Generals, and Victoria Symphony League luncheon. Playing an active role in our local community is important to maintaining relationships and visibility in the local area.
UHV continued to build and strengthen ties with our students, alumni and community by offering a variety of opportunities to engage and stay informed and involved. Our Alumni Relations office supported the Alumni Road Trips to a UH football game in the fall and to the Houston Astros vs. Texas Rangers game this spring. We also provide lasting traditions through the Class Ring Ceremony, the blessing of the rings at the Texas Zoo, and the monthly alumni email newsletter Just for Jags.
Review and establish structures to stabilize and increase student access and student success.
UHV began offering a test-optional admissions route for new freshman students during summer 2022. This admissions option expanded access to higher education for minority and first-generation students who are often intimidated by the test scores requirement for admissions. A permanent admissions option for test optional was introduced to the Board of Regents because data indicated that the majority of applicants at UHV who selected this option were Hispanic students.
Access is enhanced by our UNIV 1302 and 1303 courses, in which we're able to enroll students who are TSI incomplete in Math or English.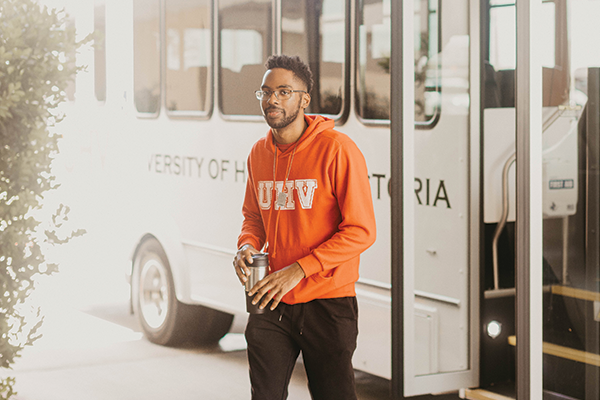 Students are afforded an array of services to help them succeed at UHV including but not limited to services specifically for disabled students, mental health counseling, peer mentoring, tutoring (both in person and online), access to advisors and success coaches, as well as activities and developmental programs aimed at increasing a sense of belonging.
Over the past year, UHV has added academic pathways with Alvin Community College, Blinn College and Victoria College to help us provide seamless transfer options for more students.
Develop a comprehensive plan to implement renovations of campus facilities and infrastructure to fully and properly utilize the funds provided by Senate Bill 52.
87th Legislature UHV Capital Construction Assistance Projects (CCAP) Bond Issuance $44,922,833
Renovation of existing buildings and other campus infrastructure upgrades
| Priority | Improvement | Budgeted | Status |
| --- | --- | --- | --- |
| 1 | Ben Wilson St. Infrastructure Upgrades | 8,499,510 | Completion late 2023/early 2024 |
| 1 | Health & Wellness Center | 7,032,000 | Construction beginning fall 2023 |
| 2 | Deferred Maintenance - Center Bldg Roof | 2,000,000 | Substantially complete |
| 2 | Northwest Front Parking Lot | 400,000 | Completion late summer 2023 |
| 2 | North 2nd & 3rd Floor Buildout** | 9,200,000 | Design started |
| 3 | Northwest 3 Story & Grocery Store Demo, CP Interest** | 2,400,000 | Design beginning July 2023 |
| 3 | University Center - One Stop Shop** | 3,000,000 | Design beginning July 2023 |
| 4 | West & Center Buildings - Remodel | 4,033,000 | 2-3 years before start |
| 4 | Kay's Grove * | 150,000 | Complete |
| 5 | Totah/PCI Demo, Remodel, Parking Lot | 1,650,000 | Design complete - UHS Purchasing |
| 6 | Campus Technology Infrastructure Improvements | 450,000 | Design started |
| 6 | Campus Chiller Infrastructure Repairs | 725,000 | Commons near completion, North complete July |
| 6 | JCI Campus Update | 140,000 | Completion July 2023 |
| 6 | Brownson Terrace East Fence | 150,000 | After Ben Wilson St. completion |
| 6 | Energy Efficiency Measures - Other | 5,093,323 | N/A |
| | Bond Total | $44,922,833 | |
* Adjust as needed based on amount of FEMA able to use
** To be done concurrently - same contract
Enhance and nurture a culture of inclusion across the campus.
The Student Life office provides weekly multicultural programs that are social, cultural, and educational. These programs are open to all UHV students and help foster experiences which create intercultural citizens who are prepared to thrive in diverse environments.
UHV has several multicultural student organizations that are highly involved on campus. These groups also provide engaging programs to support our diverse campus community. These include the Multicultural Advisory Council, which spearheads most of the multicultural programming from the Student Life office, as well as the Hispanic Student Association, Black Student Union, International Student Organization, Gender & Sexuality Alliance and more.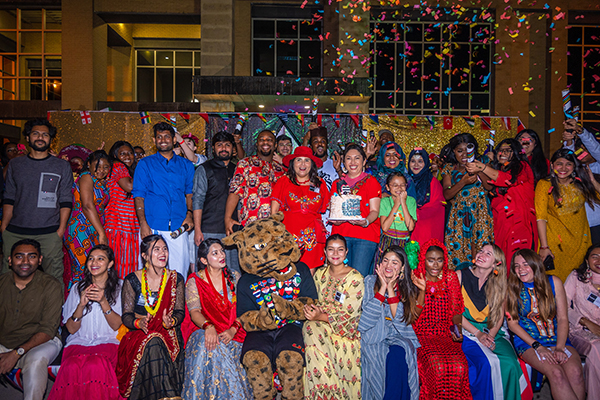 The Disability Services office helps ensure that all students have equal access to the programs and activities that are offered at UHV. We believe that all students who attend UHV should have the same opportunities to be successful in higher education.
The International Programs office promotes and increases cross-cultural learning, global engagement, and global competency, which helps to empower UHV students to become 21st-century citizens in an increasingly complex world.
The Title IX & Equal Opportunity office ensures equal opportunities in all its educational programs and activities, and all terms and conditions of employment without regard to any legally protected status, except where such a distinction is required by law.
Progress
Report
2022 - 2023