State of the University Address
2022-2023
Tammy

Murphy

Tammy Murphy, a UHV alumna, was recently named a UH System Regent by Gov. Greg Abbott. She is the first regent who is an alumnus of UHV. Her service period will last for six years. She and her husband, David, have been involved in UHV alumni activities and supported the university and VC for many years.
50th Anniversary
UHV will celebrate its 50th anniversary throughout the 2023-2024 academic year.
All university-wide activities will be tied to the anniversary celebration.
50 Faces of UHV
In September, UHV hosted the opening of the exhibit that features 50 individuals and organizations who have made a lasting impact on UHV since the university's founding.
The display is located across the five main buildings on campus with 10 pictures in each building: University West, Center, South, Commons and North.
50th Anniversary Scholarship
Throughout the year, UHV will award 50 $1,000 scholarships to students who participate in the university's 50th Anniversary celebration.
Some scholarships have already been awarded as part of the university's convocation event in September and a video contest.
50th Décor
Window decals celebrating the 50th anniversary have been put up on University Commons and the entrances to all campus buildings.
Jaguars Mural
Josh Vega and the Free Art Project in Victoria have created a mural on campus located on University South.
Goal 1:
Assess existing programs for effectiveness and sustainability.
Goal 2:
Promote and expand access to education by assessing regional needs and growing enrollment and retention.
Goal 3:
Increase community engagements in Victoria and Katy.
Goal 4:
Promote a culture of institutional identification among stakeholders by increasing attendance at campus events and holding attrition of faculty and staff to no more than 10 percent yearly.
Goal 5:
Enhance leadership pathways and skillsets for all stakeholders by supporting faculty and staff and working toward national excellence ratings.
New Aviation Program
The Texas Legislature approved funds for UHV to create a new aviation program that will be housed at the Victoria Regional Airport.
2023-2024: $1,275,000
2024-2025: $1,805,000
UHV Katy
UHV is working cooperatively with Houston Community College to formalize academic programs to help students "Start in Katy, Finish in Katy."
Transfer Pathways: We have developed seamless pathways with HCC Katy and the Katy Independent School District for students who wish to remain in the Katy area. The programs include dual-credit courses in high school that can directly apply to a degree at UHV.
The UHV Counseling Training Clinic offers free counseling to adults and children in the Katy area and allows UHV counseling students to gain experience while supervised by licensed counselors.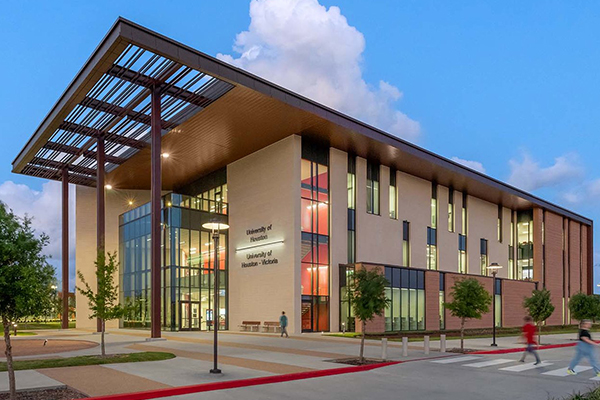 Building Relationships
Amber Countis, new Vice President of Advancement and External Relations
Giving Tuesday: $48,225.32 from 446 donors benefitting 53 different areas. $10,000 challenge gift from KMH Wealth Management LLC and Keller & Associates CPAs PLLC.
Young Alumnus of the Year: David Faskas, class of 2012
Distinguished Alumna: Lori Zamora, class of 2020
One For All, All for One employee giving: 215 employee donors (44.7 percent) and raised $69,797.
UHV Day at the Capitol in March 2023
Kay's Grove Dedication
Gathered to dedicate garden in April 2023
More than 150 people attended, including donors, former presidents and regents, PRAB members, faculty, staff and students.
The garden honors the life of Kay Kerr Walker, a former UH System Regent and a beloved member of the Victoria community.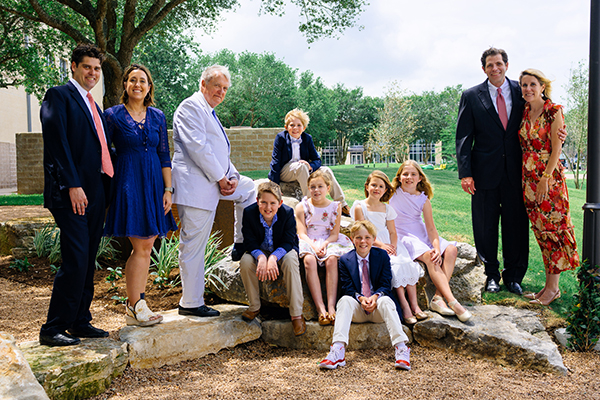 The Linda and William Reaves Collection of Texas Art
The Linda and William Reaves Collection of Texas Art
40 pieces of 20th-century Texas art were donated to UHV through the Public Art of the University of Houston System.
The pieces are located in various buildings across campus, including UHV University South, North and UHV Northwest.
The art that was donated was curated by the Reaves and was donated by them as well as a few pieces donated by Rebecca Lee and Maurice Schmidt, Irma and Dr. Jim Brand, and Kay Betz.
The art was curated to include pieces that were created in the region during UHV's 50-year history beginning in 1973.
Ongoing Projects
Ben Wilson Street
Projected completion by
December 2023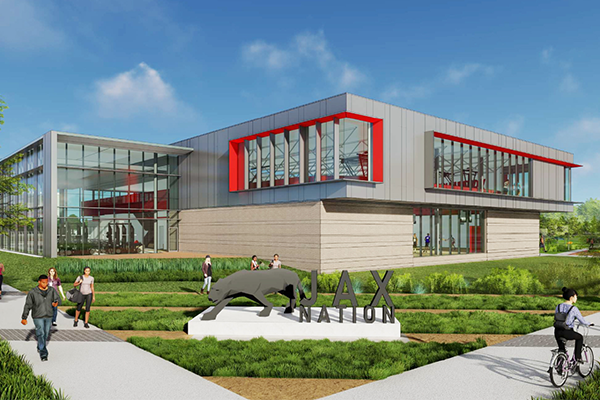 Health & Wellness Center
Construction began August 2023 with projected
completion in 2025 (funded by $2 million gift from
M.G. & Lillie A. Johnson Foundation and student fees)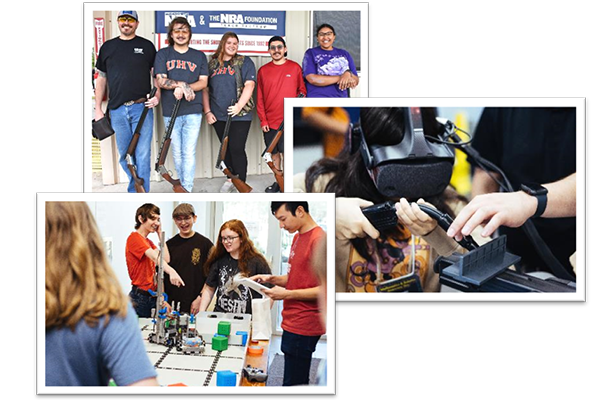 Grants
$1.5 million grant from the U.S. Department of Education Office of Elementary and Secondary Education to train future school psychologists through a partnership with Katy ISD.
$150,000 grant from the National Endowment for the Humanities to help the university create three new minors: race and ethnic studies, women and gender studies, and disability studies.

$32,000 grant from Alcoa Foundation for STEM summer camps and activities such as Math & Robotics Awareness Day.

5,000 shotgun shells from the NRA Foundation to the UHV Trap & Skeet Shooting Club to use as practice ammunition to prepare for future competitions and educate others about shotguns in a safe environment.
Test-optional admissions
Courses for students who are TSI Incomplete in mathematics or English
Services available to meet needs for disabled students, mental health counseling, peer mentoring, tutoring (both in person and online), access to advisors and success coaches
Academic Pathways with area community colleges for seamless transfer
The Writing Center conducted more than 700 writing submissions and reviews
Tutoring services gave more than 400 hours of direct tutoring and 300 hours of supplemental instruction.
Success Advocates and Peer Mentors offered 300 hours of services including mentoring, events, presentations in classrooms by student presenters, guidance to first-year students and assisting with Summer Bridge Program.
Important Numbers
During the 2022-2023 Fiscal Year, UHV gave out $38 million in financial aid.
Fall 2022 Enrollment: 4,059 (2,858 undergraduate and 1,201 graduate)
Student Ethnicity:
African American: 614 (15.13%)
Asian American: 318 (7.83%)
Hispanic: 1,636 (40.31%)
International: 185 (4.56%)
White: 1,141 (28.11%)
Other: 165 (4.07%)
Enrollment by Geographic Regions:
International: 217 (5.35%)
Out of State: 32 (0.79%)
Texas: 3,810 (93.87%)
Student Life
UHV Student Life facilitated more than 186 events in Victoria and Katy.
Hosted conferences for UHV, VC and local high school students.
The International Festival was attended by more than 600 students, faculty, staff and community members.
JP's Market
Free campus food pantry for UHV and Victoria College students
Supported by Food Bank of the Golden Crescent; university faculty, staff and students; community members
About 12,000 pounds of food distributed during the 2022-2023 academic year
Average of 450 student visits per month in 2022-2023
Monthly pop-up markets for UHV Katy have seen 25 student visits.
UHV Athletics
Baseball won the RRAC Conference Tournament and played in the NAIA National Championship for the first time since 2014 and the fourth time in program history.
Softball reached the RRAC championship game.
The Men's Golf team were RRAC champions for the third-straight time and went to the NAIA National Championships.
The Women's Golf team finished fourth in the Continental Athletic Conference tournament
The Men's Soccer team made it to the RRAC Conference tournament semi-finals for the eighth consecutive season.
Women's Soccer won 11 games and had the best RRAC record in program history.