Come be a part of the vibrant community at Jaguar Village
Welcome to Jaguar Village, the thriving residential community at the heart of the University of Houston-Victoria (UHV). Designed to provide students with a comfortable and engaging living environment, Jaguar Village offers a range of modern amenities, convenient facilities, and a strong sense of community. Whether you're a freshman or an upperclassman, Jaguar Village provides an ideal space to live, learn, and connect with fellow students. Experience the warmth and camaraderie of Jaguar Village as you embark on a transformative journey at UHV.
Take a moment to enjoy these captivating photos highlighting the diverse room styles available at Jaguar Village. Let yourself be inspired by the modern and inviting spaces that await you.
Tour Our Residence Halls!
If you're looking to visit our property before moving in, feel free to stop by any Residence Life office for a walk-in tour during business hours! Planning ahead? Give us notice of your future visit through our bookings calendar, so we can ensure the best tour experience.
We strongly encourage you to schedule a campus tour with Admissions & Recruitment. By doing so, they'll automatically enroll you in a housing tour (which you can opt out of) - saving you the hassle of booking two departments!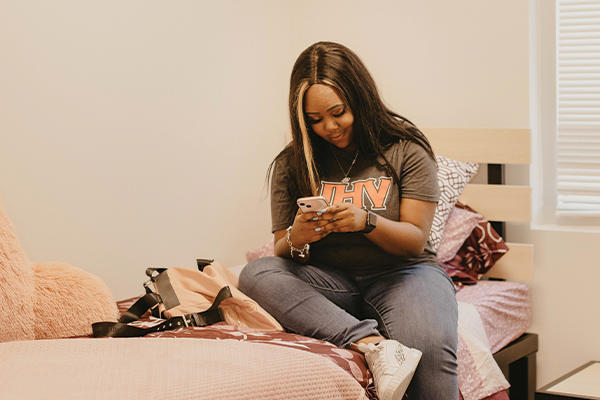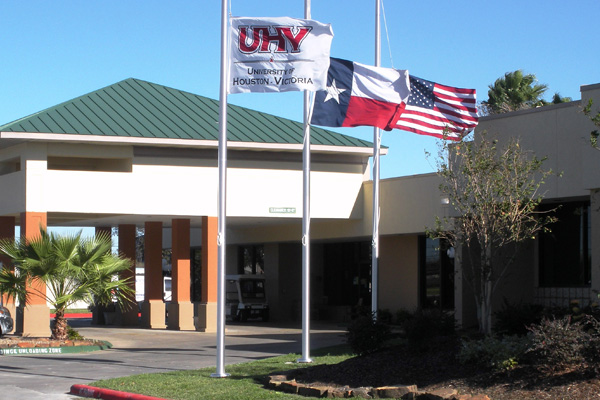 Jaguar Hall
Freshmen & Upperclassman
The University of Houston-Victoria (UHV) recognizes the importance of student engagement and a sense of community to the ultimate academic success of college freshmen. Thus, UHV requires new freshmen to reside in Jaguar Hall. Take advantage of our convenient location and unmatched amenities—everything you want and need in one place makes Jaguar Hall the best in college living! Jaguar Hall is located just a short distance from the University of Houston - Victoria. You will also enjoy our amenities including a computer center, study lounges, social recreation lounge, tutoring center, and much more.
Jaguar Hall also offers fully furnished units, individual liability agreements, and cable and internet are included.
Our professional on-site staff is dedicated to serving your needs and arranging both social and educational activities to help you meet other residents and enjoy your freshman year college experience.
Jaguar Hall, UHV's first residence hall, will remain the home to entering UHV freshmen. Jaguar Suites is open to all UHV freshmen and upperclassmen students. Smith Hall, the newest building on the block available to upperclassmen, is located across the street from campus and the University Commons and a short distance from other university resources.
Jaguar Suites
Freshmen & Upperclassman
Welcome to Jaguar Suites, UHV's suite-style residence hall which opened for occupancy in the Fall 2013.The suite-style residence hall features 54 units, all with four private 9' x 12' bedrooms, a shared living space and kitchenette, and two baths. Furniture is provided, as are televisions, microwaves, and refrigerators. The building features a multi-purpose room, computer labs, small group study rooms on each floor, a large fitness room, commons areas with TVs on each floor, and two elevators. Additional amenities include Wi-Fi throughout the building, wired internet in each bedroom, cable TV provided, laundry facilities on each floor, a pool, paid utilities, and trash collection rooms on each floor.
Jaguar Hall, UHV's first residence hall, will remain the home to entering UHV freshmen. Jaguar Suites is open to all UHV freshmen and upperclassmen students. All residence facilities are located together, a short distance from campus.
Upperclassmen and graduate students will be given priority in Jaguar Suites.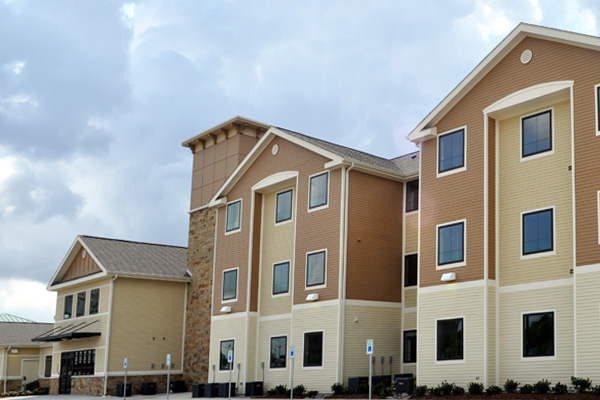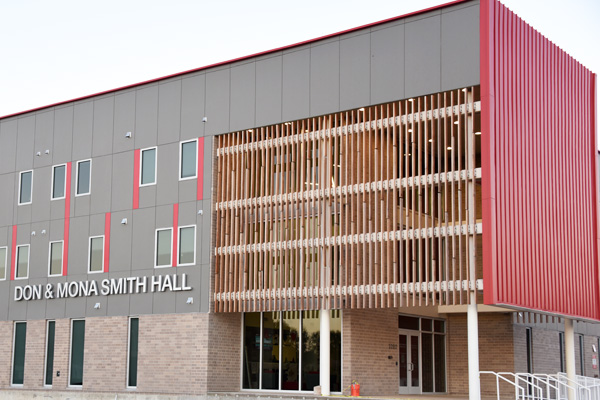 Smith Hall
Upperclassman Only
Recently opened in Fall 2020 will be Smith Hall, UHV's newest suite-style residence hall. Named in honor of the university's provost emeritus, Don Smith and his wife, Mona, Smith Hall is located at 3202 N. Ben Wilson St., next to University Commons and library. The three-story, 280-bed residence hall will feature 76 suites with students being able to choose between two floor plans. Each suite will have space for four students in either a shared bedroom option or a private bedroom option. All suites will consist of a shared living space, a kitchenette (with microwave), and two bathrooms.
Amenities and key features for each room include Wi-Fi, basic cable and TV, and furnishings.
Each floor will have a common kitchen area and study room with a computer lab for students. A laundry area will be located on the first floor along with a TV and gaming lounge that will exit into an outdoor courtyard area.