Our Mission
The Office of Institutional Research and Effectiveness supports UHV decision-making in planning, evaluation, and program assessment for accrediting bodies and other internal and external stakeholders. The mission is accomplished through data collection, analysis and reporting; providing training to others in these activities; and monitoring and tracking the assessment activities associated with the institutional effectiveness process.
Our unit outcomes
OIRE will provide timely, accurate, consistent, and easy-to-access information for both internal and external constituents
OIRE will serve as a resource and support for assessment and accreditation-related activities in academic and non-academic units within UHV.
OIRE will continually improve the efficiency and effectiveness of information collection and distribution
What we do
Institutional Effectiveness (IE) works primarily to ensure that all areas of the university use sound assessment methods to evaluate the quality of their services, and that the data collected through annual assessment is helpful for decision making and improvement.
Institutional Research (IR) translates the volumes of data collected by UHV and other public data sources (e.g., US Bureau of Labor, Census Bureau, National Student Clearinghouse, etc.) into reports that demonstrate UHV's accountability to external regulators and assist UHV employees in planning and assessment.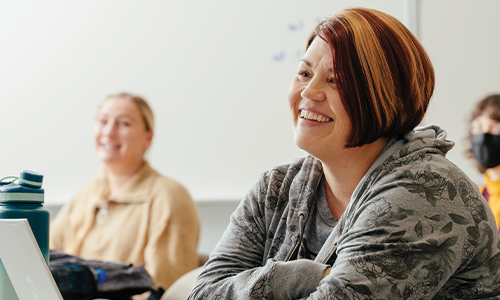 Our Accreditations
SACSCOC Accredited
The University of Houston-Victoria is accredited by the Southern Association of Colleges and Schools Commission on Colleges (SACSCOC) to award baccalaureate, masters, and specialist degrees.
AACSB Accredited
UHV has obtained the prestigious AACSB accreditation, which recognizes the university's excellence in business education and places it among the top institutions worldwide in terms of academic quality and rigor.
ABET Accredited
This accreditation signifies the university's commitment to delivering high-quality education in the fields of engineering, computer science, and technology.
CACREP Accredited
UHV has achieved the esteemed CACREP accreditation, which demonstrates the university's dedication to providing top-notch education and training in the field of counseling.
NASP Accredited
The School Psychology program is accredited by NASP, the National Association of School Psychologists. The program is accessible at both the Victoria main campus and the teaching site in Katy.
TASP Accredited
TASP promotes the profession of school psychology and advocates for the well-being and educational success of students.