Understanding Financial Aid: Your Path to College
Financial aid includes scholarships, grants, and loans that can help make your education more affordable. We want to ensure that your dream of attending college becomes a reality, so feel free to explore the resources and reach out to our financial aid team if you have any questions. We're here to help you navigate the financial part of your educational journey.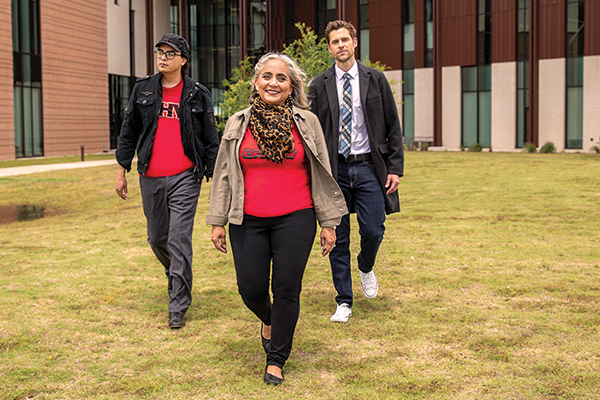 Many students attending the University of Houston–Victoria will pay less than the listed tuition and fees thanks to the variety of financial aid offered by the institution. In fact, more than 70% of UHV students receive some form of aid each year
Types of Financial Aid
UHV awards financial aid based on student eligibility and the availability of funds.
Determining Financial Need
Need-based financial aid is available to students with financial need to offset college costs. It's awarded based on your Free Application for Federal Student Aid (FAFSA).
Submitting the FAFSA to the U.S. Department of Education's processor is the first step in determining a student's financial need. The processor will calculate your Expected Family Contribution (EFC), which measures your eligibility for federal student aid. Your EFC is then deducted from the University's Cost of Attendance to determine your financial need.
Formula:
Cost of Attendance (COA) - Expected Family Contribution (EFC) - Scholarships & Other Resources = Need for Aid
Need-Based vs. Non-Need-Based Financial Aid
If you demonstrate financial need, you may qualify for grants and scholarships, which are often referred to as "free money." This is considered need-based aid and does not have to be repaid.
Other financial awards, including some scholarships, are given based on your academic merit, talent, major, athletic ability, and more. This is non-need-based financial aid.
Financial aid is awarded based on the information you reported on the FAFSA. In addition, information from the Records Office will help determine your eligibility for aid, including:
Graduate or Undergraduate degree-seeking student
Enrollment status
Any changes to your enrollment status may impact your financial aid awards and result in a balance owed to the university. Please report all changes to the Office of Financial Aid as soon as possible.
Your financial aid awards cannot be more than the estimated Cost of Attendance.