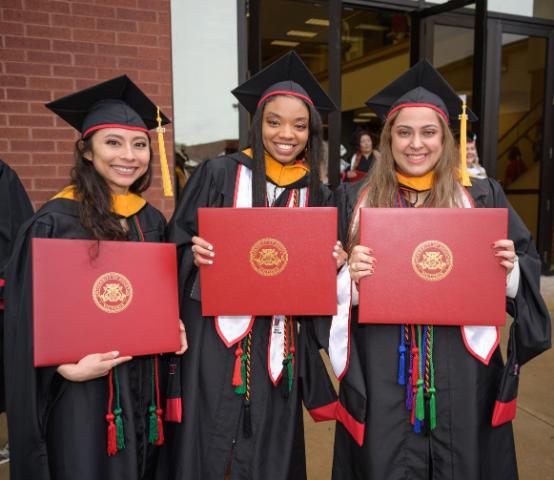 Congrats!
It's time to celebrate your achievement surrounded by people who are so proud of everything you've accomplished.
Here is some helpful information to know before and on the day of the ceremony!
Before Commencement Checklist
When, where, and what time is your ceremony?

Check how many guests you can invite!

Order regalia by November 28, 2023!

Reserve/Order Cords

Make travel plans as needed.
Know Before You Go
Parking
There are no parking fees, please follow the instructions of venue staff when you arrive to find where to park.
Click here to download directions map PDF
Entrances
Graduating Students

will go to the northwest entrance and proceed to the student check-in area.

Guests

can enter at the South entrance doors of the venue.

Guests

including minors are not allowed into the pre-ceremony graduate area or in the graduate seating and stage areas. Minors must be accompanied by an adult and this cannot be a graduate.
ADA accommodations
If any of your guests will require ADA accommodations at the commencement ceremony, there will be staff at the venue who can assist with seating accommodations. Wheelchairs will not be available for use during the ceremony. Please be sure to provide your own wheelchair, whether it is for a guest or graduate.
Policies and Procedures
Each venue has a set of policies and procedures that must be adhered to as a guest. Please review before your visit. Leonard E. Merrell Center
Program
You will get a printed program the day of the ceremony. The digital program version will be viewable up to 30 days following the conclusion of the ceremony.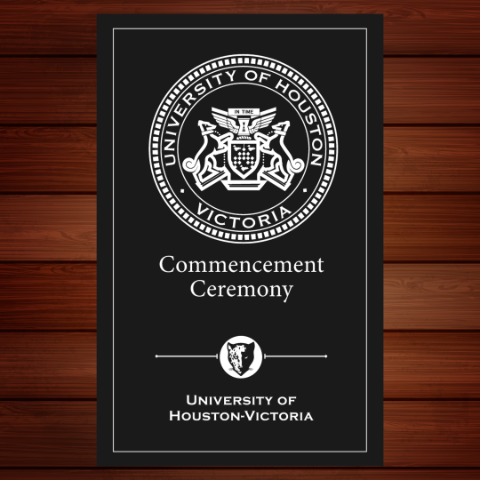 Preparing for the Ceremony
What to expect the day of the Ceremony
First, verify you have all your regalia (cap, gown, etc.)
Visit the check-in tables and ensure you have your name card.
No rehearsal, staff and faculty will be available to guide the graduates.
Graduates will be lined up by degree level, alphabetically by last name (bachelor's, master's).
Graduates will proceed single file for the procession onto the venue floor and to seating.
Seating will be by degree level in two sections on the floor per college.
You will be called to the stage by degree level. Alphabetically in a single line, you go across the stage after handing your name card to the announcer.
Your will Photos will be taken as you go to the stage as well as when you cross the stage and are handed a UHV branded diploma cover.
Masters graduates will be hooded on stage.
We ask that everyone to remain until the end of the ceremony for the celebratory tassel change and acknowledgment of being graduated. For recessional, you continue to follow the faculty's instructions to exit the venue floor. We anticipate the ceremony lasting approx. 2 hours.
Personal belongings for graduates
There is no storage at the commencement venue for personal belongings. Please make arrangements for a guest to hold any personal items or carry them with you at all times. Please be advised that University of Phoenix is not responsible for any damage or loss to personal property.
Photography
The University has coordinated with GradImages Photography to photograph graduates at the ceremony. There will be two photo opportunities during the ceremony: one when crossing the stage and another when coming down from the stage.
How do I wear my cap & gown?
How can such a simple outfit be so complicated? It doesn't have to be!
Here are a few tips to help you look your best as you walk across the stage in your cap and gown.
Regalia Protocols and Attire
Out of respect and courtesy to the University and graduates, we ask that candidates and faculty do not alter their stoles and gowns. Students are encouraged to decorate their caps! Please refrain from the use of any offensive or obscene pictures, words, or reference. If students violate any of these prohibited items, they may be asked to remove or alter these items.
Business casual attire should be worn under the gown.
Please wear comfortable shoes that can be worn long distances, on concrete and/or unstable flooring.
You are allowed to wear cords/stoles by an approved student organization/department with your standard regalia attire.
Masters Regalia
The master's degree recipient wears a colored tassel, a colored hood and a gown that has a visibly odd sleeve (one red stripe). The rear of the sleeve is oblong in shape, square-cut and closed off with a cut-out arc. Hood and tassel color varies, depending on the field of academic study.
Bachelors Regalia
The bachelor's degree recipient wears a plain black gown with a bell sleeve (two red stripes) and a red tassel on the cap, or mortar board, and no hood.