Why Choose UHV?
Be a student at the University of Houston-Victoria, a regional public university that is part of the UH System. Located in Victoria, Texas, UHV is a growing university of more than 4,300 students with faculty and staff ready to help you succeed. The university opened a student center and library in fall 2019, and will be home to a new residence hall and Science, Technology, Engineering & Mathematics Building in 2020. We offer the most popular degree programs and exciting student life activities. So come to UHV, and make your mark on campus and in the world. You'll feel great about being a college graduate, and we're here to help you get there.
You won't break the bank
College can be affordable
You already may have heard that UHV is one of the most affordable public universities in Texas, but did you know that UHV also was named a Washington Monthly 2018 Best Bang for the Buck Southern College? And to help you manage the cost of your degree, UHV will assist you in getting the most financial aid possible, whether that is through scholarships, grants, loans and work-study programs. Visit UHV Scholarships for a complete list.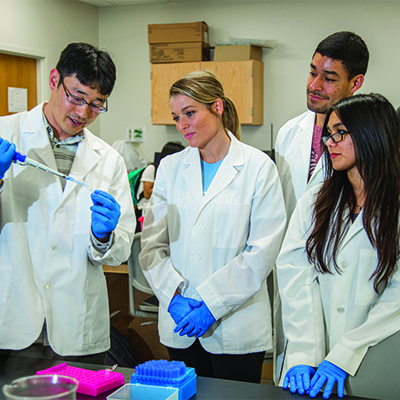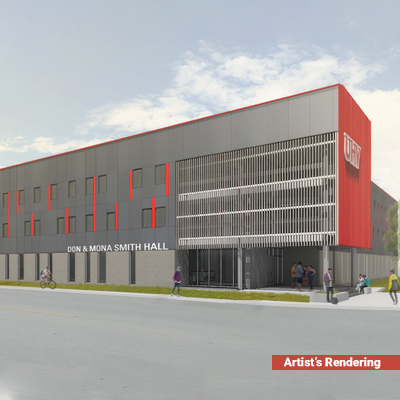 Personal attention
We're here for you
At UHV, you're a student, not a statistic. You will be part of small classes taught by a diverse group of professors ready to provide you with personal attention. Admissions & Student Recruitment staff members are here to help you get started with your application or financial aid. You and your parents will attend New Student Orientation after you are registered for classes to find out more about how you can be successful in college. Once you're here, you will be part of Center for Student Success, where you will find support and development through Student Success Coaches, the Honors Program and the Center for Student Success.
UHV AT A GLANCE
4,501

Students
(fall 2019 enrollment)
16:1
Student/Faculty
Ratio
$8,328

Annual Tuition and Fees
(2019-20 in-state rate, 15 hours/semester)
Welcome to Jaguar Village
Your home away from home
Make lifelong friends, form cherished memories and enjoy a supportive university environment in Jaguar Village, home to UHV's three residence halls. Jaguar Hall, Jaguar Court and Jaguar Suites are just a short walk or UHV shuttle ride away from campus and are fully furnished with free cable and internet access. Jaguar Village also features computer centers, study lounges, social recreation lounges, pools and laundry facilities. Your favorite meals are served in Jaguar Hall Dining.
Recognition and Excellence
A quality higher education
When you attend UHV, you join a nationally recognized, accredited university that is part of the UH System. The College of Business is accredited by AACSB International – The Association to Advance Collegiate Schools of Business, which accredits less than 5 percent of business schools worldwide. UHV also has been designated a Hispanic-Serving Institution. Check out our degree programs.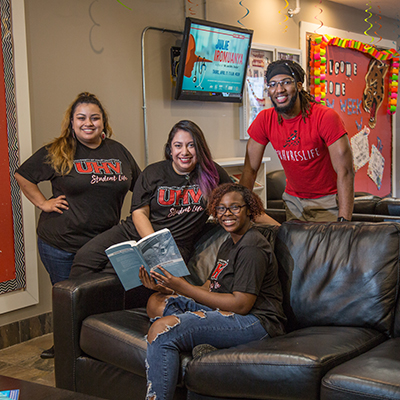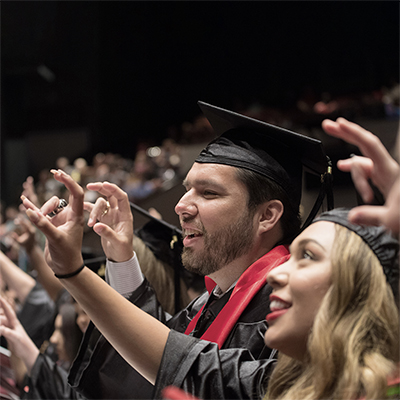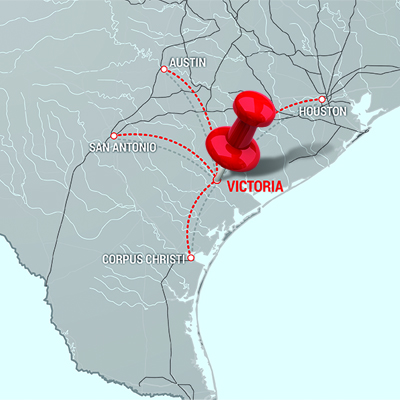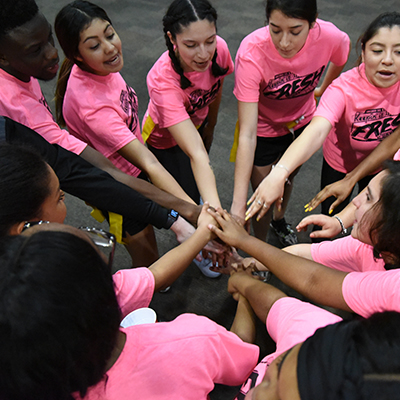 Convenient location
Experience Victoria
Earn your degree while you enjoy living on a growing university campus. Establish your independence in Victoria, a safe, welcoming city conveniently located just two hours from Austin, Houston, San Antonio and Corpus Christi. Explore the city's rich history, arts and festival scene, nature, water recreation activities and more. Enjoy all the fun Victoria has to offer. Our virtual campus map will help you explore the area before you get here.
A once in a lifetime experience
Come hang out with us
Have fun at UHV's annual homecoming celebration, or make a difference in people's lives by participating in Alternative Spring Break. Join one of more than 40 established student organizations, or start your own. Cheer on UHV's baseball, softball and soccer teams against Red River Conference rivals, support the golf teams in the Association of Independent Institutions Conference or participate in intramural sports. Take advantage of your college experience, and don't miss out on all the fun UHV has to offer.
We'll help you land a professional job
Start networking
Your degree can open new doors to careers. A UHV education will give you the training, skills and preparation to launch your career. Many national organizations that evaluate universities, including The Princeton Review and U.S. News & World Report, have recognized UHV. Several individual degree programs also have drawn top rankings. UHV is ranked the sixth most affordable public university in Texas. UHV's Career Development Center also is here to help you get your rewarding first job after graduation.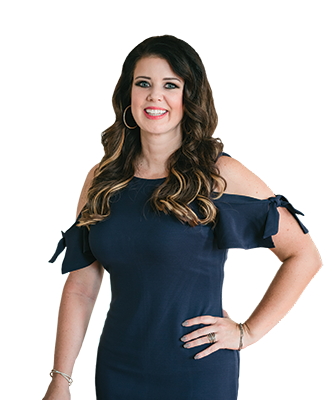 Are you ready to be a Jaguar?
Visit, explore
Now that you know how UHV can help you make your mark, it's time to see the university for yourself. Join us for one of two Jaguar Days we have each school year, or sign up for a campus tour. If you are ready to apply, go to ApplyTexas. UHV requires freshmen to meet two of the following requirements:
Rank in the top half of your graduating class
Have at least a 2.0 grade-point average
Earn an 18 or above on the ACT or a 940 or above on the SAT
STEPS TO BECOMING A

JAGUAR
Apply for admission and submit transcripts, test scores and vaccinations records
Activate Office 365 student email and myUHV account
Apply for financial aid (FAFSA opens Oct. 1)
Attend Jaguar Day or take a personal tour of campus*
Apply for housing
Apply for scholarships
Attend Jaguar Day*
Turn in FAFSA to meet priority deadline (priority deadline is March 15)
Register for fall classes with your Success Coach
Sign up for New Student Orientation
Continue working with your recruiter to complete your "to-do" list
Commit to attending UHV on GenTX Decision Day (#GenTXVictoria)
Attend New Student Orientation*
Purchase or rent your textbooks
Accept your financial aid package
Make payment arrangements for tuition and fees, housing and meal plan
Move into your residence hall and attend Jaguar Journey
Start your first day of fall classes
*If you haven't already
Have questions?
Give us a call with you question or visit our Contact page.
Main Switchboard
(361) 570-4848
Toll Free
(877) 970-4848