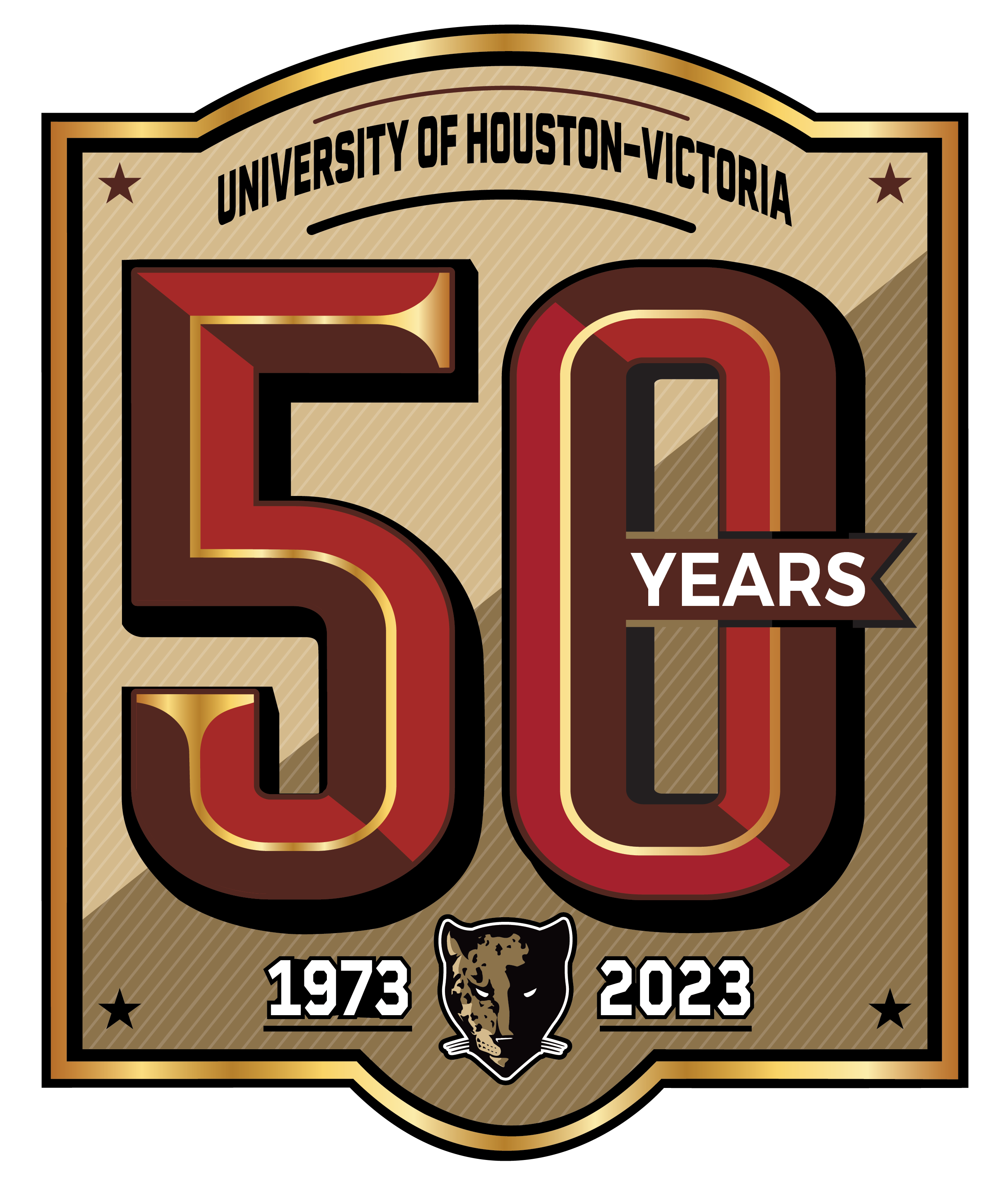 50 Years of Higher Education
At the momentous milestone of its 50th anniversary, the university expresses its excitement in sharing this occasion with everyone.
UHV's dedication remains unwavering in its pursuit of excellence, as it continues to redefine the boundaries of higher education and create opportunities for students from all backgrounds to excel. The university's resolute focus on student success and innovative research positions it as a trailblazer, poised to serve as a model for future higher education institutions.
With a shared commitment to being driven, we look forward to the journey ahead.
50th Magazine Launch
This year, UHV has published the first-ever UHV Magazine. The magazine will be an annual publication that will feature articles and information about the university, its students, alumni, employees and programs. This issue is focused on the university's 50th anniversary and includes features about a faculty member who has been with the university for 50 years, UHV alumni success stories, families with multiple generations of UHV students, a list of UHV traditions and even an illustrated timeline of UHV's history.
50 for Fifty UHV
SCHOLARSHIPS!
Throughout the academic year, UHV will be awarding fifty $1,000 scholarships to students during different events.
50th Welcome Week Scholarship
50th School Spirit Scholarship
50 Faces of UHV - Art Exhibit
On Sept. 12, the university opened the 50 Faces of UHV art exhibit on campus.
The display featured portraits of 50 individuals and organizations who have had a significant impact on the university during the institution's history. The portraits are displayed throughout the year in five buildings on campus: Center, West, North, South, and Commons.
Explore the display and learn about some of the people and organizations who helped UHV become what it is today.
2009 Softball
Team
The 2009 UHV Softball Team was led by coach Keri Lambeth. The team was the first UHV team to compete at the national level, when they advanced to the 29th Annual NAIA Softball National Championship. Keri also was named the 2009 A.I.I. Coach of the Year. Kristen Lindley was named First Team All-American, Designated Player. Right fielder Amber Scott was named to the Second Team. Pitcher Tasha Rotramel received Honorable Mention accolades. Kristen (Lindley) Sayegh and Lindsey (Ferguson) Ortiz were the team captains. Ortiz is now the head coach. The team ended the season with a record of 35-12.
Alcoa
Foundation
Alcoa Foundation has donated to UHV computer science and STEM activities for more than 35 years. The organization received the community Partnership Award in 2018-2019. Alcoa Foundation supports many outreach programs including UHV Math & Robotics Awareness Day, several computer science and robotic summer camps and a year-long after-school robotics class.
Dorthy
Alcorn
Dorothy Alcorn was the first UH Regent from Victoria. She was a UHV alumna and a longtime supporter of the university. In 1994, she received the UHV Presidential Medal. She also was named a Distinguished Alumna.
Albert & Margaret
Alkek
Albert & Margaret Alkek were philanthropists and former Victoria residents. They donated $1 million to UHV's Margin of Excellence campaign in the late 1980s, the first large contribution to the university. Mr. Alkek's estate established the Albert and Margaret Alkek Foundation, which continues to support charitable, religious, scientific (primarily medical), cultural and educational organizations and programs serving the people of the state of Texas.
Kenneth
Armbrister
Kenneth Armbrister was a Texas state representative from Victoria in 1983 who sponsored SB 235, a bill that made UHV a free-standing university in the UH System. Senator Ken Armbrister served two terms in the Texas House of Representatives before being elected to the Texas Senate. After a distinguished 20 years of service in the Texas Senate, Senator Armbrister chose not to run for reelection and retired from public office. His service to Texas did not end upon leaving the Senate, however, as Ken accepted the position of Legislative Director in the Office of Governor Rick Perry, where he continued to fight for good public policy on behalf of all Texans. Ken Armbrister's entire adult life has been committed to public service in Texas. Upon leaving the Texas Senate, Armbrister had committed nearly thirty-eight years to serving the people of Texas. Before his legislative career began, Ken Armbrister was a Captain with the Victoria Police Department and Director of the Victoria Regional Police Training Academy. He is a graduate of Sam Houston State University and the FBI National Academy. Ken Armbrister also served as Vice-President of the Victoria Independent School District. During his tenure in the legislature, he was named one of the Top Ten Best Legislators, and was honored by education, medical, criminal justice, and water groups, among others, for his service to Texas. Ken Armbrister served on and was Chairman of every major committee in the Senate, was elected President Pro-Tempore of the Senate and served as acting governor. Ken Armbrister is married to his college sweetheart Susie, with whom he has two children, Erin and Shane, and three grandchildren.
Joseph
Ben-Ur
Joseph Ben-Ur was a UHV professor emeritus who worked at UHV for 23 years before his retirement in August 2019. During his time at UHV, he taught marketing classes, conducted research in several influential areas and was committed to being involved in the university and helping students become competent, quality marketing professionals. He held a significant role in supporting and improving the College of Business and the university, including early efforts to offer online classes and the process of earning accreditation from AACSB International – The Association to Advance Collegiate Schools of Business. He also served as president of the Faculty Senate twice and received the 2009-2010 UHV Distinguished Faculty Service Award.
Wayne
Beran
Wayne Beran is a retired UHV Vice President for Administration and Finance. He played a major role in developing facilities master plans, structuring legislative strategies for funding opportunities, and overseeing $184 million in land expansion, new construction, and renovation of facilities as part of becoming a destination university in Victoria. When he retired from UHV, he was vice president for administration and finance. Wayne was at UHV for 32 years and oversaw many major university projects that contributed to its growth, including the addition of buildings including University Commons, UHV Northwest and Don & Mona Smith Hall.
Crossroads
Bank
Crossroads Bank has been one of the biggest supporters of UHV Athletics, and in 2019, the company pledged to donate $300,000 to the program over a 10-year period. The bank also supports other university endeavors, including Giving Tuesday.
Joe
Dahlstrom
Joe Dahlstrom retired in 2019 after serving as UHV Library senior director for 31 years, and spent most of his time leading the UHV and Victoria College libraries when the two institutions shared a library. During Dahlstrom's time as senior director, the library staff participated in collaborations with the Victoria Public Library, the Fort Bend County Libraries system and even some UH System university libraries. The library staff also took part in projects and initiatives such as an oral history project to preserve stories of Vietnamese refugees on the Texas coast, collecting primary source research materials such as journals from Civil War soldiers, Banned Books Week events and hosting history conferences. In addition to his work at UHV, he was involved in the community including serving as chair of the Museum of the Coastal Bend advisory board, president of the Victoria Fine Arts Association, President of the Crossroads Community Band, president of the Texas Library Association and a longtime member of the Victoria Northside Rotary Club.
Meledath
Damodaran
Meledath Damodaran is a UHV professor emeritus who taught full time at UHV for 20 years starting in 1991. During his time at UHV, he was promoted to full professor and became the coordinator and helped create the UHV computer information systems program, including the computer information systems graduate program. Along with another faculty member, Damodaran helped create the digital gaming and simulation concentration, which has grown to be its own degree program. He spent nearly 20 years as a full-time faculty member and taught one course as an adjunct faculty member for several years after retiring. In 1992, Damodaran received the prestigious Fulbright Scholar Award and lectured in India for five months. He later spent a year as a visiting faculty member at an institution in India while he was on sabbatical at UHV. He also served in several other roles at UHV, including as a representative for the Faculty Senate and as a member of several committees, including the Promotion and Tenure Committee, the President Search Committee, the Dean Search Committee and the UHV Academic Affairs Committee. He received the title of professor emeritus in 2021.
Alvaro
De La Cruz
Alvaro De la Cruz Jr. is a two-time UHV alumnus who graduated in 2019 and 2021. He was the second UH Student Regent from UHV. He also served as the UHV Student Government Association president and received the 2018 UHV Student Leadership Award. He currently is a full-time Residence Life Coordinator at The Pennsylvania State University - University Park. Within that role, he has chaired the Equity and Inclusion Committee and the Coordinator Engagement Roundtable for Residence Life, was an instructor for Higher Education 302, The Role of the Resident Assistant, Theory and Practice, and completed an internship as a conduct case manager within the Office of Student Accountability and Conflict Response. For the summer of 2023, he is working with TRiO Programs - Upward Bound to identify and provide services for individuals from disadvantaged backgrounds. He plans to start a doctorate program in higher education in fall 2024.
First UHV
Graduates
The first UHV graduates received their degrees in 1974 after taking classes at the University of Houston Victoria Center. They were Mrs. Eva Gilson, Mrs. Ramona Pickle, Mrs. Diane Savage and Laureen Hatfield. Gilson, of Victoria, graduated with a Master of Education in curriculum and instruction; Pickle, also of Victoria, graduated with a Bachelor of Arts degree in history; Bay City resident Savage graduated with a Bachelor of Arts in English; and Hatfield received a Master of Education.
Ben
Galvan
Ben Galvan is a UHV alumnus who graduated in 1994. He received his MBA from UHV and is the president of CivilCorp LLC, a Texas-based civil engineering and land surveying company with offices in Houston, Fulshear, Round Rock, Corpus Christi and Victoria. He has been a big supporter of the university for years, is a member of the President's Regional Advisory Board, and was named UHV's 2019 Distinguished Alumnus.
Claude
Gilson
Claude Gilson was a community leader who worked closely with other leaders to establish the University of Houston Victoria Center in 1973. He was one of the first full-time staff members at the university and was an integral part in establishing and expanding the university through technology. He held the roles of Director of Admissions and Records, Executive Director of Student Services and Continuing Education as well as serving as an assistant professor of mathematics. He convened the first UHV class with five mathematics students. He worked at UHV from 1973 until his retirement in 1994. He was awarded the UHV Presidential Medal in 2002. His wife, Eva Gilson, was one of the first graduates of UHV.
Glenn
Goerke
Glenn Goerke was UHV president from 1986-1991. During this time, he procured the university's first single-largest donation of $1 million, establishing the Alkek Scholarship Endowment for students. He raised enrollment, established the first inter-institutional doctoral program and criminal justice program, negotiated a new building, and developed ongoing articulation programs with area junior colleges. He contributed to the community through involvement in civic, business, and cultural programs, and served as president of the Victoria Chamber of Commerce. He received the Victoria Rotary Club's Citizen of the Year Award in 1989, the 1997 UHV Presidential Medal, and was given the title of UHV President Emeritus by the UH Board of Regents.
Karen
Haynes
Karen Haynes was the longest-serving UHV President. She led the university from 1997 to 2004 and spearheaded a transformative era marked by noteworthy achievements. Under her visionary leadership, the university experienced a significant increase in enrollment, successfully acquired land and the only UHV building from Victoria College and then built a second building, University Center. She led pioneering efforts to lead a UH multi-institution center in Fort Bend County, the College of Business attainted AACSB accreditation for the first time and online courses started.
Claud & Mary Virginia
Jacobs
Claud and Mary Virginia Jacobs have been longtime UHV supporters. Together, they created endowments for nursing students and UHV Athletics. The Claud Jacobs Invitational golf tournament has been going on for 10 years. They received the People Who Make A Difference award in 2015 as part of the UHV Annual Report & Excellence Awards event.
Mascot
jaX
jaX the Jaguar is the official mascot of UHV. The university chose the jaguar as its official mascot during spring 2007 after the university announced plans to create an athletics program. The jaguar was dubbed jaX in 2010 after the university held the Jaguar Naming Contest. The name stands for "Jaguars Are eXceptional!" JaX made his official debut in August 2012. He appears at student activities on campus and at UHV Katy as well as UHV Athletics games. He even attends some community events.
Lane & Phyllis
Keller
Lane and Phyllis Keller are longtime UHV supporters and UHV alumni. The Kellers are generous supporters of the university, both personally and professionally through their businesses, KMH Wealth Management LLC and Keller and Associates CPAs PLLC. Graduates of Texas A&M University, Phyllis obtained her MBA at UHV and Lane took accounting courses required to obtain his CPA. Both Lane and Phyllis served as members of the UHV Here, We Go Campaign Leadership Committee. They also created the Lane and Phyllis Keller Family Scholarship Endowment for business students. Lane has been a member of the UHV President's Regional Advisory Board for several years. They were the recipients of the Community Partnership Award in 2020.
Lois
Kolkhorst
State Senator Lois Kolkhorst represents the Victoria area and is a longtime supporter of UHV. She supported UHV's expansion efforts and the university's goal to reach 6,000 students in Victoria by 2025.
Melvin & Janey
Lack
Melvin and Janey Lack are longtime UHV supporters. Melvin served on the Development Council which brought UHV to Victoria. He also served on the President's Advisory Committee under Karen Haynes and initiated the Annual Fund Drive. Janey served on the Crossroads Commission on Education, which was instrumental in the downward expansion of UHV. She was awarded the UHV People Who Make A Difference Award in 1997 and the UHV Community Partnership Award in 2010.
David B.
Lack
David B. Lack was a community leader who was involved in the successful efforts to establish a university in Victoria and a longtime benefactor of UHV. In 1984, Lack donated his former family home on Trinity Street to UHV to house the Center for Children, a learning environment for aspiring early childhood teachers. He is considered one of the early founders of UHV. In 1992, he received the UHV Presidential Medal.
Zac
Lentz
Zac Lentz was a businessman and farmer as well as a longtime civic leader in Victoria and a UHV supporter. He served on the Chamber of Commerce legislative traffic and highway committee, and his influence on the county's highway system is notable. Among his many activities were service on the City Park Planning committee, the board of directors of Twin Pines, the board of directors of the Texas Law Enforcement Foundation, and the executive committee of the Coastal Bend Cotton Farmers Association. He also worked on – in official or unofficial capacities – many major area projects including the acquisition of Foster Field by Victoria County and the development of the Victoria Barge Canal. He served as chairman of the upper-level legislative committee, which was instrumental in bringing the University of Houston to Victoria. In 1992, he received the UHV Presidential Medal for his efforts in the 1970s that led to the establishment of the university.
Karen
Locher
Karen Locher is the current UHV Library senior director and was the first student worker in the UHV Library. She is one of the earlier graduates of the university in 1976, when it was still the University of Houston Victoria Center. She has worked at the UHV Library for more than 40 years. She helped lead the university's library into the digital age and has helped staff, faculty community members and students from UHV and Victoria College with library services. She was promoted to senior director of the library in 2020.
Robert
Lyall
Robert Lyall is a former UHV faculty member and music director at the university in the early 1970s. He is credited with founding the Victoria Symphony in 1974. He conducted the Victoria Symphony's first performance, which saw more than 600 people in attendance. Lyall served as the musical director for the symphony for 16 years. In 2016, he was awarded the People Who Make a Difference Award during the university's 2015-2016 President's Annual Report & Excellence Awards. Outside of UHV, Lyall is widely known as a conductor of opera, symphony and ballet for performances across the nation and the world. Among his many awards and distinctions, Maestro Robert Lyall was Knighted by the French government in 2016 as a "Chevelier de l'Ordre des Arts et des Lettres."
M.G. & Lillie A.
Johnson Foundation
The M.G. & Lillie A. Johnson Foundation is a longtime donor to UHV with a primary focus on the university's allied health programs. The foundation has supported UHV's the Nursing programs for decades. The foundation received the 1995 Presidential Award and the Community Partnership Award in 2014-2015.
Vic
Morgan
Vic Morgan served as UHV president from 2014 to 2018. Morgan, who previously served as president of Sul Ross University for nearly two decades, was president of UHV during a critical period for the university to help elevate it to a destination university.
Geanie
Morrison
State Representative Geanie W. Morrison has served as the state representative for the Victoria area from 1999 to the present. In that role, she has served as the Higher Education Chair 2003-2008 and is a longtime supporter of UHV. During her time as a state representative, she has introduced and carried three particularly important pieces of legislation that impacted UHV. In 2005, there was House Bill 1215, which amended the education code to allow UHV to offer all graduate-level programs, rather than only the masters-level programs. In 2009, there was House Bill 1056, which authorized the downward expansion of UHV to include all undergraduate program levels. This change would enable UHV to reach its full capacity as a driver of social and economic progress for its region, stimulate growth at The Victoria College, better serve students, and help Texas fulfill the promise of access to higher education for all citizens. Then, House Bill 3312 was passed in 2019. This bill sought to provide for a health and wellness center at UHV (a project which was supported by the student body) by authorizing the imposition of a health and wellness center fee, subject to approval in a general student election.
David & Tammy
Murphy
David and Tammy Murphy are UHV alumni and local Chick-fil-A franchise owners who created scholarships for UHV students and have been local advocates for education. The Murphy's received the Distinguished Alumni Award in 2010 and the Community Partnership Award in 2021.
William
Nesbitt
William Nesbitt was the first head of the education division of UHV back when it was the University of Houston Victoria Center. He served in that role and built the center's education division up from 1973 to 1980. He was named a UHV Professor Emeritus in 1980.
Chari
Norgard
Chari Norgard is a UHV alumna who graduated with degrees in 1986 and 1992. She also is a former UHV staff member who worked her way up from part-time secretary for the communications center to Academic Center Coordinator to Associate Vice President for Student Success and Enrollment Management. She also was instrumental in the university's downward expansion and in establishing UHV's Title IX program.
Morgan Dunn
O'Connor
Morgan Dunn O'Connor is a former UHS Regent and Board Chair, as well as a longtime supporter of UHV. She has served on the UHV President's Regional Advisory Board and received the UHV Presidential Medal in 2015.
Richard
Phillips
Richard "Dick" Phillips is a former UHV associate vice president. He also served in the university's Student Services and Regional Outreach role in 1994 to 2004 and associate vice president in University Advancement from 2004 to 2007. He then became associate vice chancellor of the UH System at Sugar Land and Cinco Ranch from 2007 to 2009, and associate vice chancellor for UH System Initiatives from 2009 to 2015 before finishing his career serving part time as UH associate provost of Outreach and Community Engagement from 2015 to 2023.
Martha
Piper
Martha Piper was chancellor of UHV from 1981, when the university was still a teaching center, to 1986. Under her leadership, UHV developed a 10-year expansion plan and saw major progress in the proposed purchase of land for a permanent building site and achieving legislative statutory authority for UHV. She also presided over construction of the Petroleum Training Institute, development and implementation of the Small Business Institute, the establishment of programs for minorities and women returning to school, the incorporation of state-of-the-art computer capabilities for both academic and administrative applications, the opening of a child care center for students and faculty and expansion of the UHV Center for Children in a new facility, the opening of the Technology Center for Teachers and a communications center, and establishing an endowment scholarship fund.
Marie
Plemons
Marie Plemons is a UHV alumna and former faculty member, a founding board member of the Children's Discovery Museum and supervised the operations at the former UHV Center for Children. She has been a longtime educator at the Victoria Independent School District, Victoria College and UHV.
Diane
Prince
Diane Prince is a UHV professor emeritus. She taught full time for 45 years, starting in 1974. During that time, she has held many positions at the university. She served as chair of the education department for six years, certification officer for the education school, director of off-campus programs and interim dean of faculties, a position that later became the university's provost and vice president for academic affairs. She also led the education school off-and-on for a total of 13 years as dean or interim dean. She also served as president of the Faculty Senate and president of the senate's executive committee. She also was chair of two university president search committees and was part of a search committee for a UH System chancellor.
Margaret
Rice
Margaret Rice is a retired UHV administrator and faculty member. She coordinated the leadership team for the university's downward expansion. She has been a longtime UHV supporter and donor. She and her family donated funds to create the Justin Truett Hunt Memorial Scholarship Endowment and the Ann Gibson Hunt Memorial Scholarship Endowment.
Josie
Rivera
Josie Rivera has three degrees from UHV and is a former UHV faculty member. She also has served as Bloomington ISD superintendent. Her story has served as an inspiring UHV education journey. She received the Alumna of the Year award in 2013-2014. She also was selected as 1999 TEPSA award recipient and was the only person this area to receive the award.
Kristen Lindley
Sayegh
Kristen Lindley Sayegh is a two-time UHV alumna who graduated in 2009 and 2011. She was the first UH System Student Regent from UHV. She also served as the UHV Student Senate president and was a member of the inaugural 2009 softball team. She was named A.I.I. Player of the Year in 2009 and was NAIA First-Team All-American that same year. She received the Student Leadership Award in 2007-2008. Today, Sayegh lives in Houston with her husband and two children. She is a CPA and partner with Whitley Penn LLP, specializing in individual and family office tax work. She received the UHV Young Alumna of the Year Award in 2021.
Bryce & Jan
Scott
Bryce and Jan Scott are Life Members of the UH Alumni Association and the Tempore Legacy Society. Bryce received his MBA from the University of Houston. While retired from Wells Fargo, he remains active in the Rotary Club and Christ's Kitchen. Jan earned her doctorate in law from the University of Houston Law Center. She is a real estate attorney with Anderson, Smith, Null & Stofer, LLP in Victoria. Jan is the City Council representative for District 4 and was first elected in 2015. As a councilmember, she is also a member of the Victoria Metropolitan Organization Advisory Committee, the Victoria Housing Finance Corporation, and the Legislative Committee. The Scotts created the Bryce and Jan Scott Endowed Scholarship at UHV. Additionally, Jan is a member of the Cloyde and Ethel Lee Tracy Foundation board of directors, which also has a scholarship endowment set up for UHV students. The Scotts have been avid supporters of UHV and donors for more than 15 years.
John
Sharp
John Sharp is a former Texas politician and public servant. In 1983, while serving as a state senator, he authored SB 235, a bill that made UHV a free-standing university in the UH System. He was elected to the Texas House of Representatives in 1978, and in 1982, he won a seat in the Texas Senate. Four years later, he was elected to the Texas Railroad Commission, and he was elected state comptroller in 1990 and re-elected in 1994. Today, he serves as the chancellor of the Texas A&M University System. He was awarded the UHV Presidential Medal in 1994.
Don
Smith
Don Smith is a UHV Provost Emeritus. He previously served as UHV dean for Academic Affairs from1987 to 1993 and returned to UHV in 1995 as provost and vice president for academic affairs until his retirement in 2006. He returned again as interim president in 2010-2011 and for four months as interim provost in 2016. During his time at UHV, he has served as interim president four different times.
Hal
Smith
Hal Smith is a UHV professor emeritus who taught history and humanities courses for UHV from 1976 to 2013 and served as the History Program Director for over a decade. He won the UHV Teaching Excellence award in 1988 and 1997 and received the Research Excellence award in 2007. After publishing with Oxford University Press and Cambridge University Press, he was a Visiting Fellow at the University of Oxford in 1994 and has been a Fellow of the Royal Historical Society of Great Britain since 2000. He is the author or co-author of six books, two of which won awards. Two of his books, British Feminism in the Twentieth Century and War and Social Change: British Society in the Second World War, have been required reading at the University of Cambridge for over two decades. He received the title of professor emeritus in 2021.
P.K.
Stubblefield
P.K. Stubblefield was a local banker, civic leader and early supporter of UHV. He was instrumental in the formation of UHV and was involved in efforts that led to the establishment of the university as a teaching center in 1973. He also served as chairman of the university's council for development and served on the president's council. He was a leader in many community organizations, including serving as president of the Victoria Chamber of Commerce, a member of the board of directors of the Texas Research League. He also was involved with the YMCA, Junior Achievement and the Boy Scouts of America. He received the Outstanding Citizen Award from the Victoria Rotary Club in 1977. In 1992, he was awarded the UHV Presidential Medal.
David
Urness
David Urness was a former UHV music faculty member who founded the Victoria Bach Festival in 1976. The Victoria Bach Festival was one of the first ways the university became involved with the community, with the community continuing to support the event each year. The festival is now run by its own association, although it still received support from community partners, including UHV. The festival recently hosted its 48th season. Dr. Urness went on to found two other arts organizations that continue to thrive, while holding subsequent teaching and arts administration positions in Tennessee, Indiana, and South Carolina: Mastersingers, a community chorus affiliated with Tennessee Technological University in Cookeville, Tennessee, now in its 45th Season, and the Indianapolis Chamber Orchestra, which will present its 40th Season in 2023-2024.
Randy
Vivian
Randy Vivian is a UHV alumnus and former president and CEO of the Victoria Chamber of Commerce. Randy has supported and advocated for the university for many years.
Kay & Ron
Walker
Kay and Ron Walker have been longtime UHV supporters. The couple received the Community Partnership Award in 2013-2014. Kay was a former UHS Regent and received the UHV Presidential Medal in 2000. Ron co-chaired the Commission on Expanding Access to Higher Education in 2008.
Roger
Welder
Roger Welder is a former UH System Regent and a longtime supporter of UHV. He has served on the UHV President's Regional Advisory Board and received the UHV Presidential Medal in 2018.
Debra
Williams
Debra Williams is a two-time UHV alumna who earned two Master of Education degrees from the university. She worked for nearly 30 years in education with the Victoria Independent School District. She is an active member of the Victoria community, has supported UHV for years, and has been a member of the President's Regional Advisory Board for several years.
Robert F.
Zawadzki
Robert F. Zawadzki was a UHV professor emeritus and one of the original 25 faculty members when the university first opened. During his time at UHV, he was part of the special education and education and education administration graduate programs faculty. He published several research articles regarding working with children with disabilities and published books as well. He retired in 2000 and the university honored him by creating a scholarship in his name, which Zawadzki turned into an endowed scholarship for graduate students studying special education called the Bob and Lee Zawadzki Endowed Scholarship. Additionally, he served two tours of duty in the Korean War in the U.S. Marine Corps. He also was active in the Victoria community and served on several boards and committees including as a Victoria Independent School District school board member and president, Victoria High School Band Boosters president, the Victoria Club, Phi Delta Kappa president, church deacon and elder, Rotary Club, and more. He stayed involved in the university's growth and development for many years after his retirement.